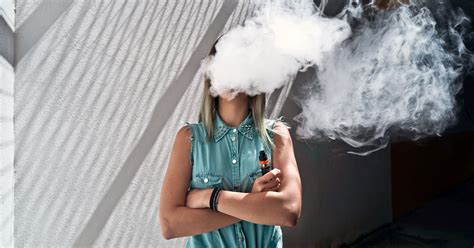 What Your Dentist Wants You to know about the Vaping Trend
Cherry, strawberry shortcake, blueberry bliss, and mint chip; the flavors of vape juice are completely endless and appealing. The trend seems fun and exciting for many, with so many flavor combinations and accessories. Even though many of these flavored vape juices have been banned, many manufacturers have found loopholes to dodge being shut down — including creating synthesized tobacco. Why? Because the profits and estimated growth in this trend, especially in middle school and high school aged teenagers and Millennials, is just too appealing to pass up, even though they're causing irreversible harm to their customers' bodies.
People are vaping all around the world … The global e-cigarette and vape market size was valued at $18.13 billion in 2021 and is expected to expand at a compound annual growth rate of 30.0% from 2022 to 2030. Here are some more staggering statistics (cited from ModernGentlemen.net):
Top 10 Key Vaping Statistics & Facts
Over 94% of US adults have heard about the harmful effects of e-cigarettes and vaping.
Young adults account for the most hospitalized EVALI cases.
E-cigarette malfunction caused 2,035 ER visits between 2015 and 2017.
In 2018, the global vaping market reached $14.05 billion.
Data from 2020 show that 11% of Americans vape.
Among US adults, millennials vape the most.
Approximately 3.02 million high-school students in the US vape.
The use of e-cigarettes spiked by a whopping 78% in 2018.
Men in the States are more than twice as likely to vape as women.
The COVID-19 outbreak has positively influenced youth's vaping statistics.
However, with more information emerging about the health dangers of vaping, it's not surprising to learn that vaping has some major negative effects to your oral health as well.
Related: What Does Vaping do to Your Lungs?
Oral Health: Vaping Leads to Cavities and Gum Disease
The ingredients in vape juice, when warmed up in a vaping or e-cigarette device, can cause up to four times the normal amount of bacteria in the mouth, according to Dentistry Insider. When there's an above-average amount of bacteria sitting in the mouth, decay begins to happen, and cavities are in the near future.
A similar thing happens after ingesting a sugary drink – bacteria counts spike because of sugar. Vaping is an oral health risk … without brushing after vaping, bacteria will begin multiplying in the mouth and create plaque. When plaque is created and not scraped off the teeth, cavities and gum disease begin to form. Studies have also confirmed that vaping speeds up cell aging and damage, further putting your oral health at risk.
Learn more about cavities, gum disease, and how they can harm your overall health: What Does Oral Bacteria have to do with a Pretty Smile?
Related Article: Oral Health: Did You Know There is a Mouth Body Connection?
Vaping Invades Schools
The truth is, some teenagers don't even know what exactly their vaping and may be unknowingly ingesting nicotine and other substances that are addictive and harmful. In 2018, 4.9 million teenagers and school-aged kids confirmed their use of vape and e-cigarette products.
Dr. Crystal Stinson, assistant professor in public health sciences, spoke with Dentistry Insider on the dangers of vaping and oral health. She said, "The flavorings and components of e-cigarettes change the oral microbiome and the pH of the saliva. Those two things can increase the risk of caries and periodontal disease. If you ask most kids what is in [e-cigarettes], they don't even know it's nicotine. Most people think it's just water vapor."
How Does Vaping Work?
Vaping works by inhaling an aerosol that has been produced by an electronically heated up a liquid; while vape pens have their advantages over cigarettes—fewer toxins, low risk from secondhand smoke, cheaper after the initial investment of the e-cigarette—the chemicals inhaled are still dangerous.
Studies have already shown that the nicotine in vape liquid and the way it is absorbed into the body is damaging to teens' brain development and overall health. Nicotine and the other chemicals—propylene glycol and vegetable glycerin and flavorings—inhaled while vaping are also damaging to your and your teen's oral health.
The rebel factor of smoking along with the ability to carry what looks like a flash drive or some other technological device that parents may not recognize contribute to the high rate of use. The variety of tasty flavors appeals to youth use too. Vaping tastes good, gives teens the addicting hits of nicotine, and makes them feel cool.
Read more from this article on vaping risks from ScaryMommy: Vaping is Risky: But Doing this Could Make it Even More Harmful
If you Smoke or Vape, Your Oral Health is at Risk
We've all seen the commercials about how bad smoking is for you. But did you know that vaping has the same negative effects on your teeth and gums as smoking does? Since e-cigarettes and vaping often doesn't include tobacco, it's often seen as the healthier alternative, but your oral health suffers just the same. Vaping is an oral health risk … so, let's discuss vaping vs smoking.
Vaping is an Oral Health Risk
About one in 5 adults smoke, and it's one of the main factors of gum disease. Let's take a look at some of the harmful effects of vaping and smoking.
Excess bacteria in the mouth: Teeth that had been exposed to e-cigarette aerosol had more bacteria than those that hadn't. This difference was greater in the pits and crevices of teeth. Excess bacteria are associated with tooth decay, cavities, and gum diseases.
Dry mouth: Some e-cigarette base liquids, particularly propylene glycol, can cause mouth dryness. Chronic mouth dryness is associated with bad breath, mouth sores, and tooth decay.
Irritation/inflamed gums: E-cig use triggers an inflammatory response in gum tissues. Ongoing gum inflammation is associated with various periodontal diseases. Vaping can cause mouth and throat irritation. Gum symptoms may include tenderness, swelling, and redness.
Cell death: Studies of live cells from human gums suggest vaping aerosols can increase inflammation and DNA damage. This can lead cells to lose their power to divide and grow, which can speed up cell aging and result in cell death.
Vaping and smoking have also directly been linked to:
Tooth decay
Bad breath
Dry mouth
Periodontal disease
Bone loss
Tooth loss
Related Articles:
Vaping vs Smoking: Weakened Immune System
Basically, smoking affects your immune system and weakens its defenses against bacteria and other outside sources. If you're smoking, it's much harder to keep your mouth clean and free of bacteria. When your mouth isn't getting rid of that surplus of bacteria, it can develop issues like gum disease. If you smoke/vape:
You're twice as likely to deal with gum disease
The more you smoke, the greater your risk
Gum disease treatments may not be as effective
Vaping is an oral health risk. The main thing you can do to greatly reduce that risk of gum disease is to stop smoking/vaping and keep up with a good oral health routine. When gum disease isn't treated, it can cause tooth loss, painful chewing, swollen gums, gums that pull away, etc. According to the American Cancer Society, "Smoking is the number one cause of preventable disease and death in the U.S. It takes more than 480,000 lives each year. That's one of every five deaths." No smoking is safe. Learn ore about Gum Disease: How can I prevent it? How does it affect my body?
Adams Dental Group Cares About Your Oral Health
At Adams Dental Group, we want your oral health to be in great shape and love helping our patients achieve their dream smile. For questions on vaping and smoking, please give us a call. If you are vaping and are experiencing swollen or irritated gums, please call us and we would love to schedule an appointment at your earliest convenience.
Local dentist, Travis A. Roberts and his experienced, friendly team at Adams Dental Group offer affordable family dentistry and gentle dental care in the Kansas City, KS area. We have two locations that are conveniently located and offer appointment times Monday through Friday to meet your needs. At Adams Dental Group, we provide most dental services, from family and general dentistry to restorative procedures, including dental implants, dentures, endodontic or root canal treatment, teeth whitening, cosmetic dentistry and much more. We accept most dental insurance plans and offer affordable financial solutions for any budget. Call us at our West location (913) 296-8030 or our East location (913) 621-3113 to schedule an appointment.
Dr. Travis A. Roberts, DDS April 26th, 2022
Posted In: Dental Health Tips
Tags: dangers of vaping, gum disease, oral health, stop bad breath, stop smoking, tooth loss