Sometimes, although we want our teeth to last throughout our lives, tooth extraction may be necessary. Your dentist may suggest removing a tooth for the good of your oral health, and there are numerous reasons as to why you may need a tooth extraction.
(more…)
Dr. Travis A. Roberts, DDS August 13th, 2019
Posted In: Services | Procedures, Uncategorized
Tags: infected tooth, surgical extraction, tooth extraction recovery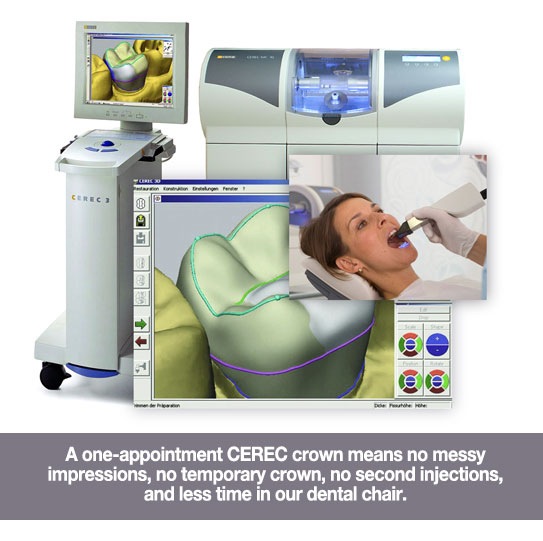 CEREC Crown: The One-Day Rundown
As a basic staple in the repertoire of the dental profession for many years are dental crowns. They are perhaps one of the most well-known and commonly performed procedures.
As you're probably aware, a conventional dental crown (to put it simply) is a method of restoration in which a tooth-shaped cap is placed over a damaged or decayed tooth. It effectively covers the entire tooth that is exposed above the gum line. The purpose of this crown is not only to improve the patient's overall oral health by restoring and strengthening the tooth, but to provide the patient with a smile that is aesthetically pleasing and functional as well. While the conventional dental crown remains a popular and sought-after solution, the process of receiving a crown has not always been the most desirable experience.
Dr. Travis A. Roberts, DDS December 12th, 2017
Posted In: Services | Procedures, Uncategorized
Tags: cerec crown

Welcome …
Welcome to the new blog for Adams Dental Group, we're excited to share additional dental information and education to our community of friends and patients. Twice each month, we'll publish articles that discuss dentistry important to our patients; everything from preventative dentistry to cosmetic dentistry and everything in between!
Dr. Travis A. Roberts, DDS April 3rd, 2017
Posted In: Uncategorized