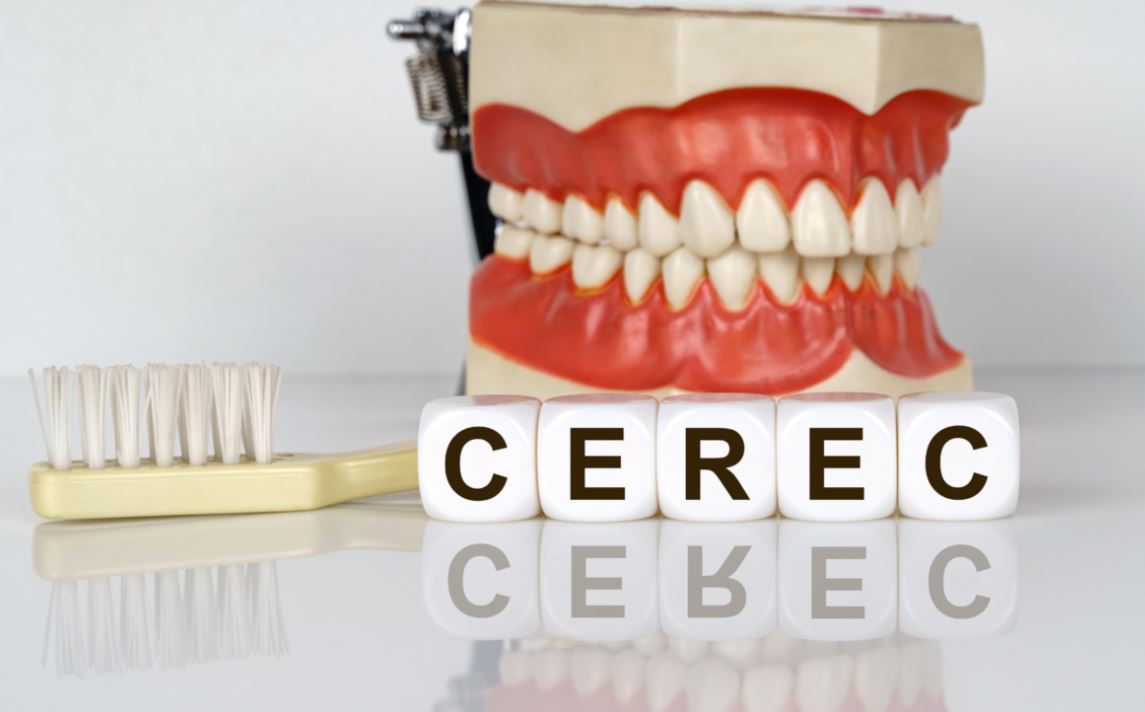 As Americans, we're used to getting things quickly. We decide we want a latte; we go through a drive-thru, we want a new pair of jeans, we head to Amazon Prime or the nearest Target store. With a same day CEREC crown, you can restore a damaged tooth in just one, quick dental appointment at Adams Dental Group.
What is a Dental Crown?
Dental crowns are essentially tooth-shaped and colored caps that cover the tooth and restore the health and look of a tooth. If a tooth is small or discolored, a crown will correct the look of a tooth in a natural way.
Up until recently, the process for getting a traditional crown has been time-consuming and requires multiple trips to the dentist office. Crowns are implemented for a variety of reasons and are one of the most common dental procedures that dentists perform. According to WebMD, dental crowns are caps that are tooth-shaped and restore the appearance of a tooth to help protect a weak tooth, restore a broken tooth, make a cosmetic modification, and more.
Traditional Crowns
In the traditional crown method, a temporary crown is created for the patient to wear for a few weeks while a permanent crown is sent off to a lab to be created. The dental office will assess the tooth in need of a crown, and the surrounding area, and take impressions with paste to make sure the tooth will be the correct size for the patient's mouth and bite. Unfortunately, after the impressions are taken, patients will have to wait multiple days or weeks for the crown to be created. In the meantime, patients are usually given a temporary crown to wear while the permanent one is being formed. This process leads to multiple trips to the dentist office.
With the traditional crown, there are multiple options for materials, such as:
Porcelain/ceramic
Metal
Porcelain and metal combination
New Crown Technology – CEREC Crowns and the Advantages
CEREC crowns are very similar to the traditional crown but differ in the fact that they can be implanted within a single day (have your heard of same day crowns?) – eliminating multiple appointments, cost, and time needed off work for patients. With this advancement in technology, CEREC crowns are made within only one dentist visit, and eliminate the need for a temporary crown. CEREC crowns are also known as chair side crowns, more specifically, the acronym stands for "Chairside Economical Restoration of Esthetic Ceramics."
Similar to traditional crowns, a dentist office will need to take impressions of the tooth, but now will use an oral camera to obtain a 3D image of the tooth – no more sticky impression paste. However, the core difference is that a CEREC same day CEREC crown can be created on site within as little as 15 minutes, restoring your life, and mouth function, back to normal within just a few minutes.
CEREC crowns also provide an advantage in appearance; a same day CEREC crown look more realistic and are created out of strong ceramic, providing a closer fit and look to a real tooth. CEREC crowns are also highly durable and are known to last as long as 15 years with good dental hygiene.
Related Articles:
Convenience is Key!
There's no reason to visit the dentist multiple times for a crown … Convenience is Key!! That's why Adams Dental Group offers a same day CEREC crown! That's the beauty of the CEREC same day crown! CEREC crowns are fast, convenient, and as reliable as any normal crown. Through advances in dentistry and technology, crowns can now be made in our dental office, making your time to get a crown cut in half or more.
Learn More About our Same Day CEREC Crown HERE.
What is a Same Day CEREC Crown and Its Advantages?
CEREC crowns are ceramic crowns, like any traditional crown. They are often known as chair-side crowns since they are created in a short amount of time. CEREC crowns are replicas of your tooth and are permanently bonded to your tooth for a seamless look. Unlike traditional crowns that require multiple trips to the dentist, a same day CEREC crown offers multiple advantages for patients, such as:
Less time and money: Less trips to the dentist mean less time out of your schedule. With a CEREC crown, there's also no need to purchase a temporary crown, saving you money.
No uncomfortable impressions: CEREC crowns use the latest technology, meaning that the use of sticky and uncomfortable impressions is a thing of the past. Instead, we use a small scanner to take numerous photos of your tooth digitally to create an accurate 3D model.
Strength: Ceramic CEREC crowns are incredibly strong and are sure to last for many years.
Aesthetics: The strong, tooth-colored ceramic materials of CEREC restore your teeth to their natural strength, beauty, and function, and closely match the composition of your natural tooth structure.
Related Article: CEREC Technology Creates Same-Day Crowns for Patients
The Same Day CEREC Crown Process
The process is quite simple for a CEREC crown. Once you come into our office, we scan the area to create our 3D model and then our machine makes your one-of-a-kind crown in less than 30 minutes. Once the crown is created, it is permanently bonded to your tooth, just like a traditional crown would be. This process is quick, efficient, and practical for our patient's busy schedules. Most important, you leave with your brand new tooth the same day!
Same Day Technology
Now there's no more waiting around or scheduling multiple appointments for your dental crown and best of all – no more temporary crowns! That's the beauty of CEREC technology. CEREC allows us to restore damaged teeth with natural-colored crowns in only one dental visit, saving you time. Crowns will make your teeth stronger and will protect your smile for years to come, all with a natural look that matches your natural teeth.
In a single visit we will:
Diagnose the issue
Prepare your tooth
Create an optical impression
Use our CEREC technology to design your crown
Place your same-day CEREC crown
Care for your CEREC crown is very similar to any traditional crown placement. Continue with your normal, twice a day, oral hygiene routine and avoid super sticky foods for the first few hours after your crown is bonded.
Learn more about Dental Crowns from WebMD HERE.
Most Common Reasons to Need a Dental Crown
As we've discussed, dental crowns can greatly extend the life of a tooth. They're common, often painless, and help restore a smile. According to the American Academy of Cosmetic Dentistry, 99.7% of surveyed adults said that a healthy smile is socially important to them. You may need a dental crown, as it can help keep your smile healthy and bright, but how do you know when you need a dental crown?
You may need a dental crown in certain situations – let's look at some of the most popular reasons:
To restore a broken tooth
To hold a dental bridge in place
Covering dental implants
Protecting a tooth from decay
Root canals – to strengthen and reinforce a tooth that has had a root canal
Large cavities
Correcting broken teeth
Correcting misshapen teeth
Repairing discolored teeth
Repairing worn down teeth
Crowns can protect vulnerable teeth and improve the look and feel of your smile. If you're curious if a same-day CEREC crown is the right treatment option for you, just ask Dr. Roberts during your dental visit.
Now let's take a deeper dive on a few of these…
Cavities Sometimes, small cavities can be fixed with a filling. However, fillings aren't always a long-term solution. When a cavity is larger or requires something more substantial than a filling, a dental crown is often the next logical step. Once a cavity enters in the tooth, it weakens it and is now extra prone to additional damage. A dental crown can restore the strength and longevity to that tooth and so, it may be covered with a crown. Learn more here: What does Oral Bacteria have to do with a Pretty Smile?
Root Canal: If the nerve of a tooth is infected, a root canal will be required to fix it. During a root canal procedure, the tooth will be hollowed out and this makes the tooth extremely prone to cracking or fracturing. Often, your dentist will then use a dental crown after a root canal to protect and strengthen the weakened tooth. Learn more: Everything You Want to Know About Root Canal Treatment
Broken Tooth or Cosmetic Modification: Not every cracked tooth will require a dental crown, but if a crack is deep or painful, crowns are often the best solution. If someone experiences major tooth stress from grinding their teeth, for example, then dental crowns may be a great solution to restore the integrity to the stressed tooth and eliminate pain.
Discolored Tooth: Dental crowns can also fix any teeth that are small, discolored, or requires a cosmetic modification. This is because a dental crown looks and feels like a real tooth and can be colored to match the rest of your teeth to look natural and beautiful.
Same-Day CEREC Crown Benefits
Although time and convenience are huge benefits to a same-day CEREC crown, there are multiple other benefits to be aware of, such as:
Look and Feel: The strong ceramic materials of CEREC crowns give your natural teeth strength, function, and a beautiful look that matches your natural tooth structure.
Time: CEREC crowns are the only crowns made in one, single visit.
Comfort: CEREC crowns eliminate the need for a temporary crown, getting rid of any discomfort.
Strength: Unlike the traditional method of layering and pressing, the milled ceramic of CEREC crowns are much stronger and will resist staining for years.
Fillings: CEREC materials and technology can also be used for fillings and are more durable than composite fillings.
Related Articles:
How do I get a Same Day CEREC Crown?
However, there are some pretty big advantages to the same day CEREC crown. Mostly, they're quick, easy, and strong! It's a great, convenient way to obtain a crown when it's needed. Instead of taking uncomfortable moldings (think goopy impressions) of the tooth and sending those off to a lab, CEREC crowns are made in-house at Adams Dental Group. We simply take digital pictures of the tooth with our CEREC technology and create the crown in the same dental visit, saving lots of time.
At Adams Dental in Kansas City, KS we are proud to offer same day CEREC crown technology to our patients. If you need a crown to fix a damaged tooth or misshapen tooth, please give us a call today to schedule your appointment with us.
Local dentist, Travis A. Roberts and his experienced, friendly team at Adams Dental Group offer affordable family dentistry and gentle dental care in the Kansas City, KS area. We are conveniently located a few minutes East of The Legends Outlets and offer appointment times Monday through Friday to meet your needs. At Adams Dental Group, we provide most dental services, from family and general dentistry to specialty procedures, including dental implants, dentures, root canal treatment, teeth whitening, cosmetic dentistry, SureSmile invisible aligners, treatment options for sleep apnea and much more. We accept most dental insurance plans and offer affordable financial solutions for any budget. Call us at (913) 296-8030 to schedule an appointment.
Dr. Travis A. Roberts, DDS June 20th, 2023
Posted In: Services | Procedures

Tooth pain and damage can keep your smile from looking as best as it possibly can. According to the American Academy of Cosmetic Dentistry, a healthy-looking smile is important to the vast majority of Americans – over 99%.
Thankfully, Adams Dental Group offers same day crowns, and can restore your smile in as little as one dental visit! Curious if you need a dental crown? Let's discuss 3 things you need to understand about dental crowns.
Dr. Travis A. Roberts, DDS June 9th, 2020
Posted In: Services | Procedures
Tags: cerec crown, CEREC one day crown, CEREC same day crown, dental crown, porcelain crown