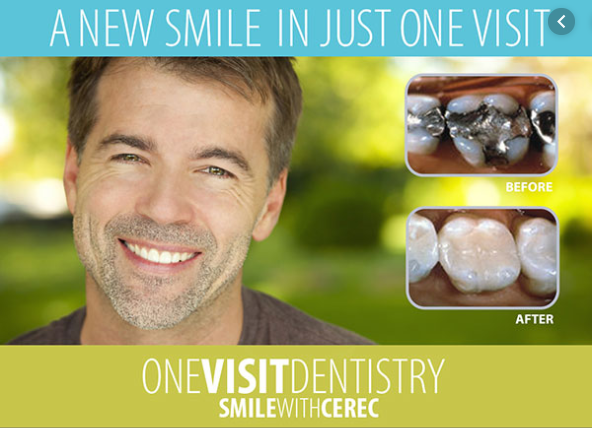 Convenience is key, and with one-day crowns from Adams Dental Group, there's no reason to visit the dentist multiple times for a crown. That's the beauty of the CEREC same day crown! CEREC crowns are fast, convenient, and as reliable as any normal crown. Through advances in dentistry and technology, crowns can now be made in our dental office, making your time to get a crown cut in half or more.
Learn More About our CEREC Same Day Crown HERE.
What is a CEREC Same Day Crown and Its Advantages?
CEREC crowns are ceramic crowns, like any traditional crown. They are often known as chair-side crowns since they are created in a short amount of time. CEREC crowns are replicas of your tooth and are permanently bonded to your tooth for a seamless look. Unlike traditional crowns that require multiple trips to the dentist, CEREC crowns offer multiple advantages for patients, such as:
Strength: Ceramic CEREC crowns are incredibly strong and are sure to last for many years.
Less time and money: Less trips to the dentist mean less time out of your schedule. With a CEREC crown, there's also no need to purchase a temporary crown, saving you money.
Aesthetics: The strong, tooth-colored ceramic materials of CEREC restore your teeth to their natural strength, beauty, and function, and closely match the composition of your natural tooth structure.
No uncomfortable impressions: CEREC crowns use the latest technology, meaning that the use of sticky and uncomfortable impressions is out the window. Instead, we use a small scanner to take numerous photos of your tooth digitally to create an accurate 3D model.
Related Article: CEREC Technology Creates Same-Day Crowns for Patients
The process is quite simple for a CEREC crown. Once you come into our office, we scan the area to create our 3D model and then our machine makes your one-of-a-kind crown in less than 30 minutes. Once the crown is created, it is permanently bonded to your tooth, just like a traditional crown would be. This process is quick, efficient, and practical for anyone's busy schedule. Most important, you leave with your brand new tooth the same day!
What is a Dental Crown and why would you need one? Read more HERE.
Care for your CEREC crown is very similar to any traditional crown placement. Continue with your normal, twice a day, oral hygiene routine and avoid super sticky foods for the first few hours after your crown is bonded.
How do I get a CEREC Same Day Crown?
At Adams Dental, we are proud to offer CEREC same day crowns to our patients. If you need a crown to fix a damaged tooth or misshapen tooth, please give us a call today to schedule your appointment with us.
Local dentist, Travis A. Roberts and his experienced, friendly team at Adams Dental Group offer affordable family dentistry and gentle dental care in the Kansas City, KS area. We are conveniently located a few minutes East of The Legends Outlets and offer appointment times Monday through Friday to meet your needs. At Adams Dental Group, we provide most dental services, from family and general dentistry to specialty procedures, including dental implants, dentures, root canal treatment, teeth whitening, cosmetic dentistry, SureSmile invisible aligners, treatment options for sleep apnea and much more. We accept most dental insurance plans and offer affordable financial solutions for any budget. Call us at (913) 296-8030 to schedule an appointment.
Dr. Travis A. Roberts, DDS December 3rd, 2019
Posted In: Services | Procedures
Tags: cerec crown, CEREC one day crown