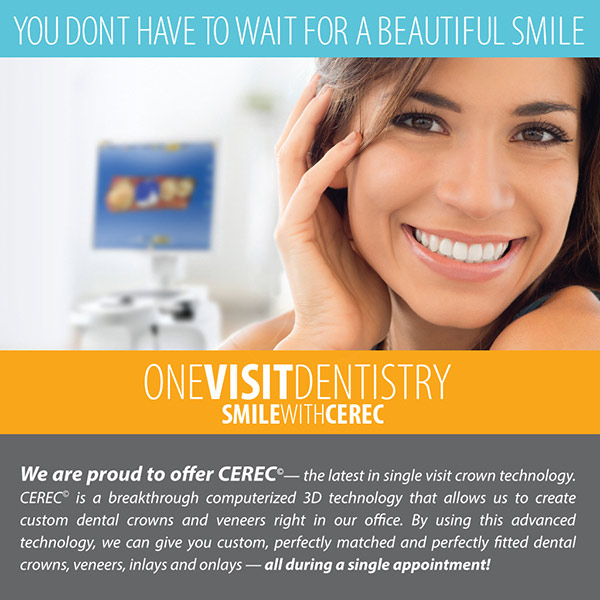 Many things can contribute to damaged teeth. Eating sugary foods and carbonated drinks on a persistent basis can play a devastating role. These can result in cavities, and deterioration of the teeth over time. The lack of oral hygiene after eating these foods or overall can impact the health and strength of your teeth.
Dangerous falls or accidents resulting in chipped teeth can also affect your smile and confidence. However, with an experienced dental team, employing the right procedures and techniques to better your smile is possible. Adams Dental Group offers individuals dealing with damaged teeth, the opportunity to have their teeth fixed in one day with a CEREC crown.
What Is A CEREC Crown?
CEREC, known as Chairside Economical Restoration of Esthetic Ceramics, is a form of technology that is used to provide same-day dental restorations. Damaged teeth are repaired by using natural-looking ceramic restorations. In a single visit, your teeth are assessed and prepped for the procedure. An optical impression is made, and CEREC is employed to design and create an accurate crown using this unique technology. Once this is complete, the crown is permanently bonded to the tooth within that same visit. This form of technology eliminates discomfort as well as the need to book additional appointments and wait extensively for the crown to be manufactured.
Related Article: Can I Receive a One-Day CEREC Crown?
How comparable is a CEREC Crown to a Traditional Crown?
The application of a CEREC crown is far less time-consuming. Every step is completed within one visit. This eradicates the need to wear temporary crowns, and the discomfort that stems from wearing them. Your permanent crowns are manufactured to match your natural tooth structure, which is a step that ensures the right fit for your tooth.
Additional advantages of a CEREC crown are its durability and strength. In comparison to traditional methods that are performed, a CEREC crown, which is comprised of milled ceramic, lasts much longer. The robust nature of this crown, as well as its natural color to match your tooth, works cohesively to improve the beauty and appearance of your teeth. Overall, this type of crown is more aesthetically appealing.
Related Article: Tooth Replacement Options in Kansas City, KS at Adams Dental Group
How Can I Book An Appointment for this Procedure?
The process of booking an appointment is quite simple. We have two locations for the convenience of our patients. For those dwelling in the East region of Kansas City, you can contact our team at (913) 621-3113. Individuals residing in the West region can contact us at (913) 296-8030. Or, as an alternative, our contact form can be completed on our website.
To complete this form, simply fill in your information, such as your name, phone number, and email. Select the type of service you are seeking and fill in a few details. Once we receive your email you can anticipate a prompt reply from one of our personnel.
If you are suffering from a damaged tooth, do not hesitate to reach out to us. We look forward to helping you restore your smile.
Local dentist, Travis A. Roberts and his experienced, friendly team at Adams Dental Group offer affordable family dentistry and gentle dental care in the Kansas City, KS area. We have two locations that are conveniently located and offer appointment times Monday through Friday to meet your needs. At Adams Dental Group, we provide most dental services, from family and general dentistry to specialty procedures, including dental implants, dentures, endodontic or root canal treatment, teeth whitening, cosmetic dentistry and much more. We accept most dental insurance plans and offer affordable financial solutions for any budget. Call us at our West location (913) 296-8030 or our East location (913) 621-3113 to schedule an appointment.
Dr. Travis A. Roberts, DDS May 22nd, 2018
Posted In: Services | Procedures
Tags: cerec crown