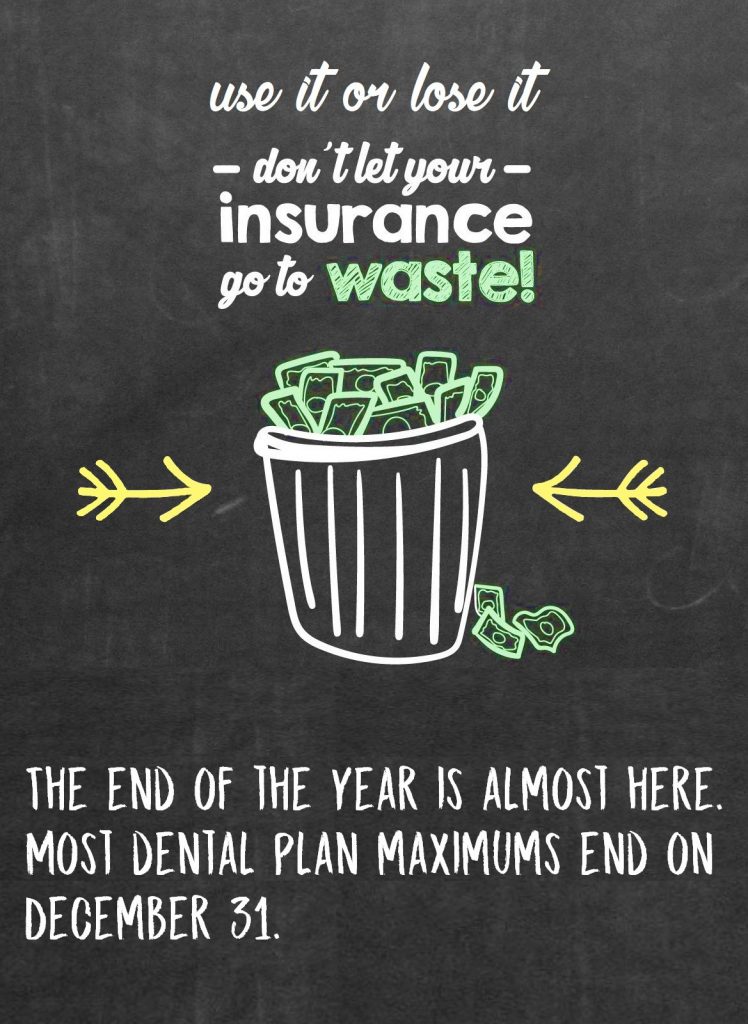 Dental Benefits are Running Out Soon! Use Your Benefits Now.
Let us help you maximize dental insurance benefits! Did you know you can save possibly thousands of dollars by using your dental insurance benefits before the end of the year? Deductibles are often met, annual maximums won't roll over, and premiums may increase. So, it's more important than ever to use your dental insurance benefits to the maximum now. Call and make your appointments today to get on the books before the holiday season begins and schedules get busier!
Related Article: Your Dental Benefits — Use It or Lose It
Types of Dental Appointments Available at Adams Dental Group
Preventative Care
A simple cavity today can turn into a nasty root-canal later on, so make sure you're staying up to date on your routine visits and preventative care. Preventative dentistry is all about maintaining oral care and preventing oral health problems down the line. This often includes regular cleanings, regular oral exams, routine x-rays, and oral cancer screenings. Dental insurance plans often fully cover preventative care services and appointments. You can also help maintain your oral health at home by brushing twice a day and flossing once a day.
Related Articles:
Elective Care | Cosmetic Dentistry
Elective dental services often fall under the cosmetic dentistry category. They are services you often elect to have done, rather than routine services or preventative services that maintain oral health. Veneers, teeth-whitening, and other smile-enhancing services such as SureSmile Invisible Aligners are often elective services, and insurance coverage may vary between each provider. Check with your insurance provider to see what elective coverage you have and schedule these big appointments at the end of the year!
Learn More about our Cosmetic Dental Services:
Large Treatments | Restorative Dentistry
If you need larger dental treatments, many of which are considered to fall under the restorative dentistry treatments, and you've met your deductible, the end of the year is the perfect time to get these treatments completed! Once you reach your deductible, out-of-pocket expenses drop dramatically, so treatments are easier to get done and less expensive for your wallet.
If you're getting close to reaching your annual maximum, talk with us at Adams Dental and we can help create a plan to split treatments between year to year if needed. We love to work with you and your insurance to create the perfect plan for your treatments to get you the services you want!
Related Article: Missing Tooth? Restore Your Smile at Adams Dental Group
How Many Appointments Should I Make?
Talk with your dentist to determine what services you need to stay healthy. More than likely, a routine cleaning is an appointment almost everyone can make before the end of the year – this is a preventive care appointment. If you need larger dental treatments and you've met your deductible, the end of the year is the perfect time to get these treatments completed! Once you reach your deductible, out-of-pocket expenses drop dramatically, so treatments are easier to get done, are less expensive for your wallet and can maximize dental insurance benefits.
Check over your insurance plan to learn if your insurance covers multiple cleanings every year. If so, make the most of your benefits by getting your cleaning in before the holiday-craziness begins and schedules tighten. Also, if you have questions for your dentist or curious about the status of your oral health, a routine check-up is the perfect way to learn about your teeth's health and ask questions.
No Dental Benefits? We Have You Covered!
It's Not Insurance: Affordable Dental Membership Plan
Our dental membership plan is not insurance, a qualified health plan under the Affordable Care Act, pre-payment for future services, or payment for access to discounted services. Rather, our membership plan is a direct payment arrangement for services, products and care provided.
The membership plan runs for 12 months and includes an auto renewal feature. You can opt out of the auto renewal at any time from the Member Portal. You will receive an email reminder 45 days prior to the renewal date. Learn more HERE.
Our Membership Plan is a simple, comprehensive, and affordable dental care plan that we offer directly to our patients!
Covers your preventive care needs and discounts off other treatment!
Your benefits start immediately! There is no waiting period.
Your membership will run for 12 months from the date of purchase.
There are no deductibles, copays, pre-approvals, or annual maximums.
Includes full price transparency.
Purchase and manage your plan from any device.
Our membership plan gives you exactly what you need: 
Comprehensive, budget-friendly and personalized dental care that enables you to commit to good oral health.
Our Patients get Great Care at an A
ffordable Price!
Access simple, affordable and personalized care
Gain benefits immediately upon sign-up
Bypass the costs and hassles of insurance—no deductibles, waiting periods, claims denials or paperwork
For more information or to choose a care plan that best fits your needs… Click here if you are a patient at Adams Dental Group West  or call 913-296-8030 for more information about our Dental Membership Plan.
Adams Dental Group Can Help You Maximize Dental Benefits
Regular dental exams and cleaning is wonderful preventative care. Although you may be brushing and flossing really well at home, tartar and plaque is impossible to remove with regular brushing and flossing, and can build-up over time. Dentists are able to use specific tools to remove that plaque and tartar, keeping our mouth cleaner and our chances of other complications much lower. That's just one more reason to let us help you maximize dental insurance benefits!
Of course, we're excited to remind you that we are now offering our very own affordable dental membership plan that covers all your preventative care and gives you discounts on other procedures. It is a simple and budget-friendly dental plan offered directly from our practice — so you can access the care you want and deserve, for less.
Don't let your 2020 dental benefits go to waste! Use your benefits to the maximum before December 31, and call us to make your appointments today. We can't wait to see you.
Local dentist, Travis A. Roberts and his experienced, friendly team at Adams Dental Group offer affordable family dentistry and gentle dental care in the Kansas City, KS area. We have two locations that are conveniently located and offer appointment times Monday through Friday to meet your needs. At Adams Dental Group, we provide most dental services, from family and general dentistry to specialty procedures, including dental implants, dentures, endodontic or root canal treatment, teeth whitening, cosmetic dentistry and much more. We accept most dental insurance plans and offer affordable financial solutions for any budget. Call us at our West location (913) 296-8030 or our East location (913) 621-3113 to schedule an appointment.
Dr. Travis A. Roberts, DDS October 12th, 2021
Posted In: Dental Insurance
Tags: cosmetic dentistry, dental exam, dental membership plan