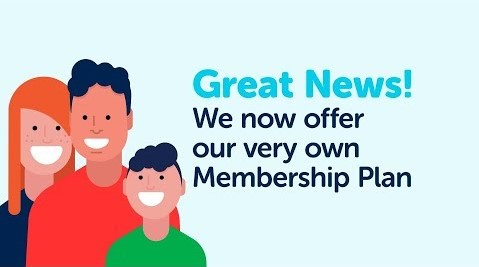 We are excited to let you know that we are now offering our very own affordable dental membership plan that covers all your preventative care and gives you discounts on other procedures. It is a simple and budget-friendly dental plan offered directly from our practice — so you can access the care you want and deserve, for less. 
What is a membership plan?
Think of dental membership plans like other subscription services you join—like Netflix and Amazon Prime. You pay a monthly or annual fee directly to your dentist, and in return receive preventative care and discounts off other treatment.
In just a matter of minutes, you can access:
A care plan personalized for your oral care needs
An affordable care plan with simple and transparent terms that you can trust
Pricing, discounts and benefits that enable you to get the comprehensive care you need
A direct relationship with your dentist that removes third-party hassles and costs and makes it easier for your dentist to provide the care you need
This plan is perfect for you if:
you self-fund your dental care

do not receive

dental benefits from your employer

are retired and no longer have dental

 coverage
If you already have insurance, this plan could be perfect for your friends and family if they self-fund their dental care or do not receive dental benefits from their employer. 
Here's how it works:
You pay $340 per year, and the plan will include: 
No Dental Benefits? We Have You Covered!
Our Membership Plan is a simple, comprehensive, and affordable dental care plan that we offer directly to our patients!
Covers your preventive care needs and discounts off other treatment!
Your benefits start immediately! There is no waiting period.
Your membership will run for 12 months from the date of purchase.
There are no deductibles, copays, pre-approvals, or annual maximums.
Includes full price transparency.
Purchase and manage your plan from any device.
Our membership plan gives you exactly what you need: 

Comprehensive, budget-friendly and personalized dental care that enables you to commit to good 

oral health

.
It's Not Insurance: Affordable Dental Membership Plan
Our membership plan is not insurance, a qualified health plan under the Affordable Care Act, pre-payment for future services, or payment for access to discounted services. Rather, our membership plan is a direct payment arrangement for services, products and care provided.
The membership plan runs for 12 months and includes an auto renewal feature. You can opt out of the auto renewal at any time from the Member Portal. You will receive an email reminder 45 days prior to the renewal date. Learn more HERE.
Our Patients get Great Care at an A
ffordable Price!
Access simple, affordable and personalized care
Gain benefits immediately upon sign-up
Bypass the costs and hassles of insurance—no deductibles, waiting periods, claims denials or paperwork
Try Our NEW Affordable Dental Membership Plan
Getting your dream smile is achievable, and that's why we are now offering a dental membership plan, which offers our dental care at an affordable, yearly price — based on you and your family's anticipated dental care needs! There's no middleman, so we can offer great prices directly to our patients with four different plans to choose from.
At Adams Dental Group, we offer affordable dental care that fit the needs of our patients and their family. Simply read through the benefits of each plan and choose which one is best for you and your family, just click HERE. It's that simple. Please visit our website for additional details or give us a call at 913-296-8030 to discuss any features or questions you may have! Or sign up right in our office during your next dental appointment!
Local dentist, Travis A. Roberts and his experienced, friendly team at Adams Dental Group offer affordable family dentistry and gentle dental care in the Kansas City, KS area. We have two locations that are conveniently located and offer appointment times Monday through Friday to meet your needs. At Adams Dental Group, we provide most dental services, from family and general dentistry to specialty procedures, including dental implants, dentures, endodontic or root canal treatment, teeth whitening, cosmetic dentistry and much more. We accept most dental insurance plans and offer affordable financial solutions for any budget. Call us at our West location (913) 296-8030 or our East location (913) 621-3113 to schedule an appointment.
Dr. Travis A. Roberts, DDS July 27th, 2021
Posted In: Dental Insurance