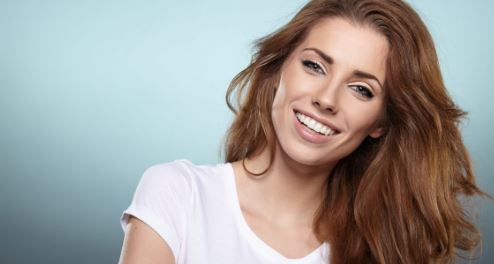 Cosmetic Dentistry Options can give you the smile of your dreams!
Our goal is to help you smile with confidence!
Looking your best and feeling confident is something that everyone can dream about. With advancements in cosmetic dentistry, your dream smile can become a reality at Adams Dental Group. After all, your smile is often the first thing someone will notice about you.
We offer complete smile makeovers that can include porcelain veneers, SureSmile invisible aligners, dental implants, dental bonding, and professional teeth whitening; whatever enhancement your smile may need, we're here to discuss your smile goals and help you smile with confidence!
Related: Achieve Your Ideal Smile with a Smile Makeover 
Cosmetic Treatments Include
Don't avoid showing others your smile, smile with confidence! If you're worried about discolored, misshapen, or damaged teeth, we have a cosmetic dentistry service for you.
Porcelain Veneers: Veneers are thin, tooth-colored shells made out of porcelain that are cemented to the front of your teeth. This creates a uniform, beautiful look that's strong and resilient, just like your natural teeth. Learn more about Porcelain Veneers.
Dental Implants: These can replace any missing teeth by using a metal device, usually made out of titanium, that is surgically placed into the jawbone, creating a strong base for artificial teeth.
Professional Teeth Whitening: Get rid of those long-time stains and discoloration without the sensitivity from over-the-counter whitening options. Professional teeth whitening is effective and efficient, getting rid of stains that are deep within the tooth and creating a beautiful smile of pearly whites.
Dental Bonding: Tooth-colored materials are bonded to your teeth, enhancing or fixing the appearance of teeth that may be discolored, chipped, or broken.
SureSmile Aligners: By wearing a series of clear, plastic Invisalign retainers or aligners, your teeth can be moved to a more ideal position and is excellent for closing gaps, or spaces between teeth, as well as straightening crowded teeth. Learn more about SureSmile.
Learn more about these treatments HERE.
Enhancing the look and feel of your smile has never been easier. With so many cosmetic options, and advancements in dentistry, your smile concerns may only be a few visits away from giving you the beautiful smile of your dreams. Smile with confident with a smile makeover, give us a call today to schedule your consultation.
Check out these Cosmetic Dentistry Before and After Photos
What is a Smile Makeover or Full Mouth Reconstruction? 
Using a combination of restorative and cosmetic dentistry treatment options, Adams Dental Group can combine multiple services to restore the functionality, health, and look of your smile with a smile makeover! If you've suffered from tooth damage, decay, or loss, full mouth reconstruction may be a wonderful option for you to smile with confidence again, and often includes a combination of:
Dental Implants
Crowns and Bridges
Teeth Whitening
Porcelain Veneers
Learn more about the Cosmetic Dentistry Options Available at Adams Dental Group.
Smile with Confidence at Adams Dental Group
Whether you're looking to enhance, straighten or whiten your pearly whites, Dr. Roberts and his expert team of smile professionals can help you smile with confidence. Schedule your smile consultation at our office in Kansas City, KS and let's discuss your smile makeover. What do YOU want? How would YOU like to see your smile? We will customize a treatment plan and make this the year you remember with a SMILE!
Local dentist, Travis A. Roberts and his experienced, friendly team at Adams Dental Group offer affordable family dentistry and gentle dental care in the Kansas City, KS area. We have two locations that are conveniently located and offer appointment times Monday through Friday to meet your needs. At Adams Dental Group, we provide most dental services, from family and general dentistry to specialty procedures, including dental implants, dentures, endodontic or root canal treatment, teeth whitening, cosmetic dentistry and much more. We accept most dental insurance plans and offer affordable financial solutions for any budget. Call us at our West location (913) 296-8030 to schedule an appointment.
Dr. Travis A. Roberts, DDS August 23rd, 2022
Posted In: Cosmetic
Tags: porcelain veneers, professional teeth whitening, SureSmile invisible aligners