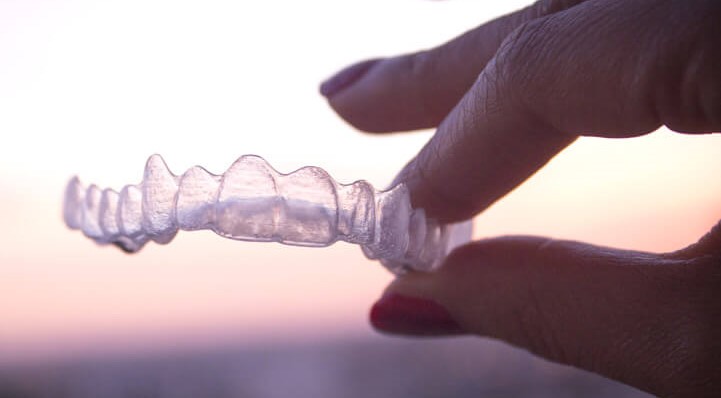 Millions of people undergo orthodontic treatments to straighten their smile, but do they offer dentist-approved results? Having a straight smile can give your confidence a huge boost; making you more willing to show off your smile and also protecting the health of your smile for years to come.
If you've considered getting invisible aligners for straightening your teeth, now is the time! Undergoing orthodontic treatment no longer means you'll be stuck with bulky, traditional braces. SureSmile® aligners are invisible and discreet, don't disturb your day-to-day lifestyle, and are the best choice for professional dentist-approved results.
SureSmile aligners are:
Invisible. All aligners are clear and virtually invisible. Make sure to keep them clean to keep them clear! Brush them with your toothpaste and rinse clean.
Comfortable. SureSmile Clear Aligners are made to fit your mouth perfectly. No more poky wire and metal braces – you'll get used to them in no time. They're also low maintenance and don't require frequent adjustments.
Removable. Unlike traditional braces that can't be removed, SureSmile Aligners can be removed to eat and brush your teeth! This means that they won't get in the way of your daily life and activities.
Customized Treatment Plan. Working directly with Dr. Roberts and his Team at Adams Dental Group is key! Unlike some of the "mail-order" ortho treatment that is available, we are here to guide your smile treatment every step of the way to ensure your success.
Learn more HERE.
The High-Quality Difference in SureSmile®
You may have heard commercials advertising cheaper, mail-order alternatives to SureSmile®. While the idea sounds good in theory, it's important to know the real difference between SureSmile® and the mail-order alternatives.
SureSmile® aligners are created using cutting-edge technology. According to the SureSmile® website, "An automated, high-precision, laser-cutting process is used to offer the ultimate in comfort. The edges of SureSmile® Aligners are exceedingly smooth, whether you choose a straight or scalloped trimline." The removable trays offer high levels of accuracy and precision – making sure they always fit perfectly and give you the best dentist-approved results in the shortest time possible.
Learn more about the Science Behind the Process: Why SureSmile? Or Check out the SureSmile® website for additional information.
The SureSmile® Aligner System gives you the peace of mind that your treatment plan is developed by a dental professional. Dr. Travis Roberts at Adams Dental Group has invested in state-of-the-art equipment and software that allows him to see your teeth "root to crown" at every angle imaginable. You can be confident your personalized treatment plan is fully customized and designed for a long-term healthy, happy smile.
Related Article: Cosmetic Dentistry Options: Helping YOU Achieve the Smile YOU Want
The Risk of Alternative Methods
In contrast, the mail-order alternative options for invisible aligners can't give the same, dentist-approved results as SureSmile®. In fact, many dentists around the U.S. have reported that patients who have used the mail-order alternatives are needing more tooth/alignment corrections due to the aligner-process not working correctly. That is the big risk you will take by using a program that doesn't have cutting edge technology and doesn't work directly with your dentist to monitor progress.
Related Article: SureSmile Clear Aligners: A Smile is a Wonderful First Impression 
SureSmile aligners are designed to work and to last. They provide accurate and effective results, providing patients with beautiful, straight smiles. Getting started with your smile consultation at Adams Dental Group is incredibly easy:
Schedule your initial SureSmile consultation at our office.
Your dentist will take impressions and create your customized treatment plan.
Next, you'll receive your customized invisible aligners and the process will begin.
Let's Have a Conversation
There are a lot of cosmetic dentistry options and it all starts with a conversation. We can help restore not only the beauty of your smile, but also the form and function of your teeth. Please schedule a consultation with Dr. Roberts at Adams Dental Group we look forward to talking with you and creating a treatment especially for you that provides dentist-approved results!
If you're interested in learning more about SureSmile clear aligners to straighten your smile, please give us a call today!
Local dentist, Travis A. Roberts and his experienced, friendly team at Adams Dental Group offer affordable family dentistry and gentle dental care in the Kansas City, KS area. We have two locations that are conveniently located and offer appointment times Monday through Friday to meet your needs. At Adams Dental Group, we provide most dental services, from family and general dentistry to specialty procedures, including dental implants, dentures, endodontic or root canal treatment, teeth whitening, cosmetic dentistry and much more. We accept most dental insurance plans and offer affordable financial solutions for any budget. Call us at our West location (913) 296-8030 to schedule an appointment.
Dr. Travis A. Roberts, DDS March 8th, 2022
Posted In: Cosmetic
Tags: orthodontic treatment, SureSmile, SureSmile invisible aligners