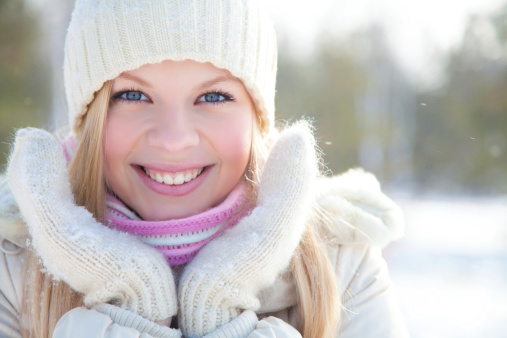 If you hear someone talking about a "makeover," you're probably thinking that they're getting a closet refresh, or maybe getting their hair and makeup done so they can feel and look confident. Did you know you can also give your teeth a makeover? Small changes to someone's appearance can make the biggest difference in self-confidence, and starting the new year with a new and improved smile with a smile makeover with cosmetic dentistry is a wonderful way to kick off a new year full of possibilities!
Related Article: Cosmetic Dentistry Options: What is a Smile Makeover?
Smile Makeover with Cosmetic Dentistry: Here's What You Can Do
Get your teeth professionally whitened. One of the best and easiest things you can do for your smile is to reverse the signs of age, smoking and even medications by brightening your smile with a teeth whitening procedure. New Year, New YOU: Brighten and Lighten Your Smile with Teeth Whitening
Enhance your smile with porcelain veneers. Veneers can conceal a wide variety of issues – from cracked teeth, gaps, crooked teeth, discolored teeth, and short or misshapen teeth. Veneers are wafer-thin shells of porcelain that are custom-crafted to improve the appearance of your teeth.
Fix chips with dental bonding. If you're worried about your chipped teeth, dental bonding may be a great option for improving your smile. We Use versatile and resilient tooth-colored composite materials creating a strong structure that still feels like your original tooth.
Recontouring and reshaping. Tooth reshaping or recontouring provides instant results for cracked, chipped, or sometimes crooked teeth. We will slightly alter the shape, length, or position of the teeth.
Straighten teeth invisibly: SureSmile clear aligners straighten teeth discreetly with clear aligners that are virtually undetectable and fast-acting. Learn how we can Straighten Your Smile with SureSmile Invisible Aligners
Learn more about our cosmetic services HERE.  
A Full-Mouth Reconstruction
By combining both restorative and cosmetic procedures, we offer a full smile makeover with cosmetic dentistry options that can completely transform your smile. This is great for pearly whites that have been damaged by tooth decay, damage, or loss. We can treat anything from disease to replacing missing teeth and create a new smile you can be proud of into the New Year and Beyond!
A confident smile is important. A smile is much more than just straight, white teeth. When you feel confident in your smile, you feel confident in yourself and are prone to show off your smile frequently. You deserve to have a bright, strong, and healthy smile.
Learn More about The Benefits of Smiling and Laughter
The benefits of smiling and laughing are numerous and you can light up a room with just your smile. If you're curious about the benefits of our cosmetic and restorative procedures, give us a call today to start your smile makeover journey and begin with a consultation.
Let's Have a Conversation
You can see there are a lot of smile makeover with cosmetic dentistry options and it all starts with a conversation. We can help restore not only the beauty of your smile, but also the form and function of your teeth. Please schedule a consultation with Dr. Roberts at Adams Dental Group we look forward to talking with you and creating a treatment plan customized especially for you.
Local dentist, Travis A. Roberts and his experienced, friendly team at Adams Dental Group offer affordable family dentistry and gentle dental care in the Kansas City, KS area. We have two locations that are conveniently located and offer appointment times Monday through Friday to meet your needs. At Adams Dental Group, we provide most dental services, from family and general dentistry to restorative procedures, including dental implants, dentures, endodontic or root canal treatment, teeth whitening, cosmetic dentistry and much more. We accept most dental insurance plans and offer affordable financial solutions for any budget. Call us at  (913) 296-8030 to schedule an appointment.
Dr. Travis A. Roberts, DDS December 21st, 2021
Posted In: Cosmetic