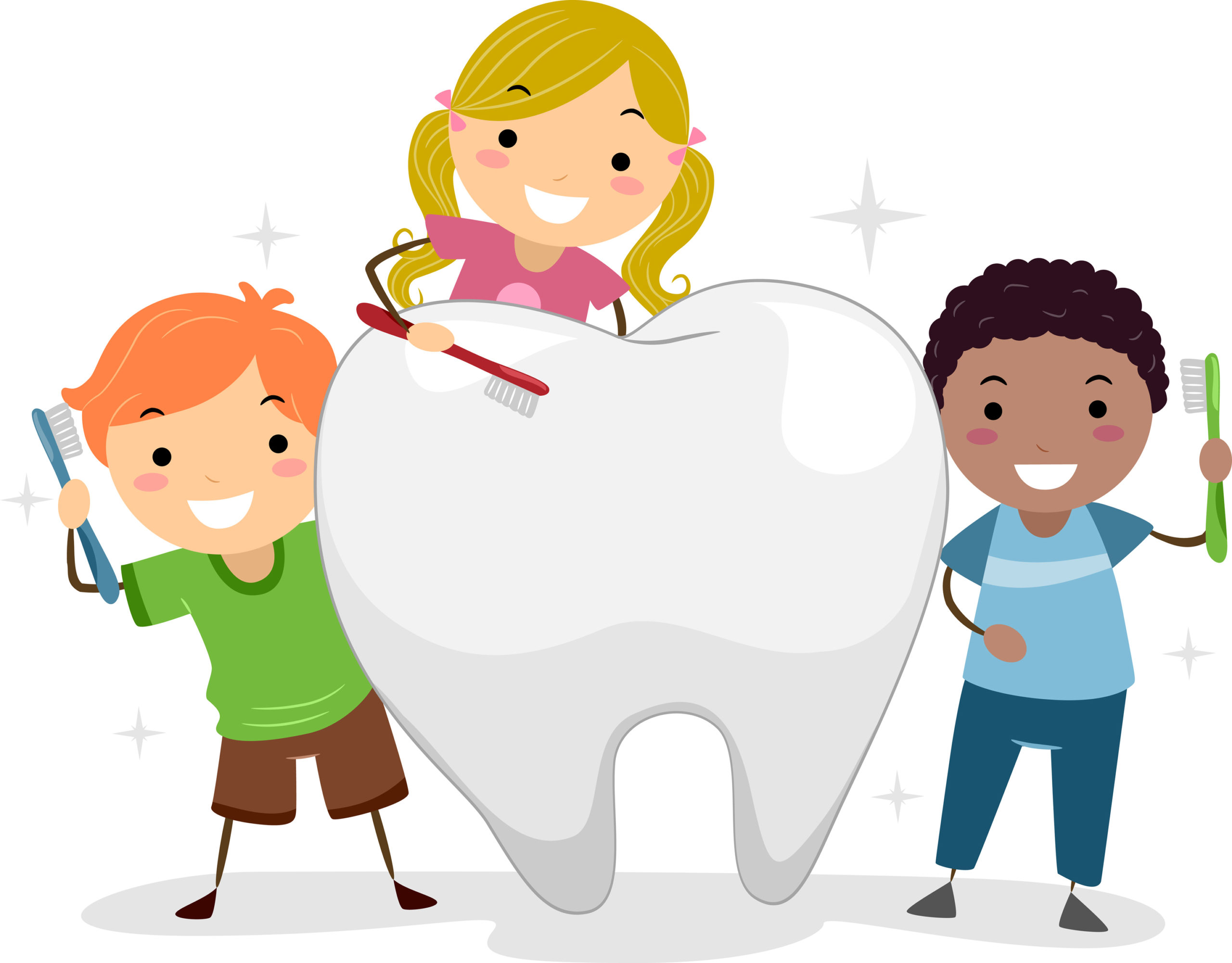 Each year throughout National Childrens Dental Health Month in February, the American Dental Association brings together dental health professionals, caregivers, parents, and teachers to start children with the best start oral health habits. From brushing and flossing to healthy snacks and routine dental visits, that's why Adams Dental Group loves to celebrate our Little Patients and their families!
But, don't forget your baby … childrens dental health starts before your baby's first tooth comes in!
Taking Care of Your Baby's Oral Health
Taking good care of your baby's mouth and teeth is important. A baby's first tooth usually comes in at around age 6 to 10 months. Healthy primary (baby) teeth help children chew food and speak clearly.
Tips for keeping your baby's mouth and teeth healthy:
Cleaning your baby's gums and teeth
Clean your baby's gums even before you can see the first tooth. Use a clean, damp washcloth to wipe the gums. Do this twice a day, especially after night feeding.
After your baby's first tooth comes in, use a baby toothbrush with soft bristles and a small head. Put a smear (size of a grain of rice) of fluoride toothpaste on the toothbrush and brush all sides of your baby's teeth.
Brush your baby's teeth in the morning and before bedtime.
Using bottles and sippy cups
Do not put your baby to bed with a bottle or sippy cup filled with breast milk, infant formula, fruit juice, or other liquids besides water. Liquids that contain sugar can cause tooth decay.
Using pacifiers
Clean the pacifier with soap and water.
Never clean a pacifier in your mouth before giving it to your baby. Germs that cause tooth decay can pass from your mouth to your baby's mouth.
If the pacifier gets worn out or breaks, get a new one.
Do not dip the pacifier in sweet foods like sugar, honey, or syrup.
Never put a pacifier on a string or ribbon around your baby's neck. It could choke your baby.
Related Article: Family Dentistry: How to Prevent Tooth Decay in Baby Teeth
Tips & Tricks for Brushing your Child's Teeth
Here are some guidelines that we suggest to help you build healthy habits for your childrens dental health:
Brush your child's teeth after breakfast and before bed.
Use a child-sized toothbrush with soft bristles and fluoride toothpaste.
For children under age 3, use a small smear of fluoride toothpaste.
For children ages 3 to 6, use fluoride toothpaste the size of a pea.
Young children like to do things by themselves. It's good to let children brush their teeth while an adult watch. But children under age 7 or 8 cannot brush their teeth well yet. An adult need to brush the child's teeth too.
Find a position where your child is comfortable, and you can see your child's teeth while you brush. For example, sit on the floor with your baby's or young child's head in your lap. Or stand behind your child in front of the mirror.
Gently brush your child's teeth using small circles. Brush all surfaces of the teeth, including the insides and outsides.
After brushing, have your child spit out the remaining toothpaste but not rinse. The small amount of toothpaste that stays in your child's mouth is good for the teeth.
If you are having trouble brushing your child's teeth, use a timer, a counting game, or a song while brushing. You can also ask the staff at your child's dental clinic for help.
 Childrens Dental Health: Tips for Brushing
Don't skip – Making it habit requires sticking to the schedule. Even when there is a special occasion or if our child is tired, we need to reinforce the importance of brushing.
Make it fun – Songs that last 2 minutes will help. Reading to your child while they brush may help, too. Even a puppet brushing his teeth can be motivating.
Learn by example – Children emulate their parents. Brush with your children and they will want to be just like you.
Trial and error – Try different kinds of toothpaste until you find the one junior likes.  Try using the smallest amount he will allow and working your way up to the recommended amount. Even a tiny amount is better than no toothpaste.
Don't give up – The pain of cavities and lifelong dental issues is more costly and damaging than the dealing with these few moments of nagging battles twice a day.
Related Article: Family Dentistry: Your Child's Teeth from Birth to Age 6 
What about BEFORE you have the baby?? Read more about Caring for Your Dental Health During Pregnancy
Giving Your Child Healthy Snacks
Young children eat small amounts of food because their stomachs are small. In addition to giving your child healthy meals, giving your child a variety of healthy snacks at scheduled times during the day is important to keep your child healthy. Encourage your child to try new foods.
Tips for healthy snacks:
Give your child a variety of healthy snacks, such as:
Fruits like apples, bananas, oranges, or berries
Give your child cut-up or whole fruit instead of fruit juice.
Vegetables like broccoli, carrots, celery, cucumbers, or peppers
Foods made with whole grains, like cereals, crackers, bread, or bagels
Dairy products like low-fat milk, cheese, cottage cheese, and unsweetened yogurt
Avoid foods that may cause choking, like popcorn, nuts, seeds, raw carrots, or whole grapes. Cut food into small pieces.
Give your child water or milk to drink with snacks.
Do not give your child sweets like candy, cookies, and cake at snack time. And do not give your child sweet drinks like fruit flavored drinks, pop (soda), and fruit juice at snack time.
Adams Dental Group Supports Childrens Dental Health and Family Dentistry in Kansas City
Adams Dental Group offers family dentistry services for patients of all ages. We believe that excellent oral health starts early. As professionals, we understand that children require particular care, and we ensure that every tiny tooth is taken care of. Learn more about what to look for in family dentistry in Kansas City, KS. If you are looking for a family dentistry practice that is capable of providing personalized attention to your young one, we encourage you to contact us.
Local dentist, Travis A. Roberts and his experienced, friendly team at Adams Dental Group offer affordable family dentistry and gentle dental care in the Kansas City, KS area. We have two locations that are conveniently located and offer appointment times Monday through Friday to meet your needs. At Adams Dental Group, we provide most dental services, from family and general dentistry to specialty procedures, including dental implants, dentures, endodontic or root canal treatment, teeth whitening, cosmetic dentistry and much more. We accept most dental insurance plans and offer affordable financial solutions for any budget. Call us at our West location (913) 296-8030 to schedule an appointment.
Dr. Travis A. Roberts, DDS February 4th, 2020
Posted In: Dental Health Tips
Tags: dental appointment, dental health and wellness, dentist for children, family dentistry