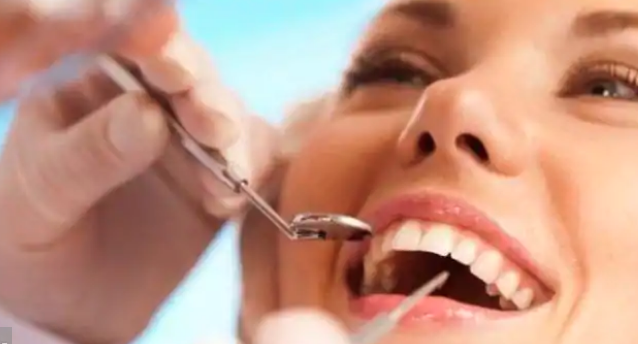 Affordable Dental Care for Your Family
We understand how important quality, affordable dental care is to our patients in the Kansas City, KS area. Dr. Travis Roberts and his Adams Dental Care Team always strive to offer services that provide beautiful results with our detailed and precise workmanship and expertise. We've been in the business of helping people achieve their best smiles since 1994, and we love helping all your family members.
Our services include:
White fillings
Enamel shaping
Bonding
Teeth whitening
TMJ treatment
Dental implants
Dentures and partials
Sleep apnea treatment
Sports mouthguards
Fluoride Treatments
Full mouth rehabilitation and more!
Learn More about the Dental Services we offer HERE.
We Make it Simple for New Patients
At Adams Dental Group, we're accepting new patients and offering appointments for emergency dental treatment. Look no further and give us a call today to set up a routine appointment, get help for a dental emergency, or discover more about our cosmetic dentistry services. We work hard to offer affordable dental care for all of our patients. If you're a new patient, please give us a call at 913-296-8030 to schedule your appointment. When you come for your first visit, we'll want you to come a few minutes early to fill out a bit of paperwork and gather your Health History information. Check out our resources page on our website for some great information about the Dental Insurance Providers we work with and our our own Affordable Dental Membership Plan. You'll also find helpful resources, more information on our dental emergency services, dental anxiety tips and tricks, and more.
We offer Same-Day Emergency Dental Appointments
Our philosophy on dental emergencies is very simple "If you need toothache relief or are having another type of dental emergency, you are first in line … PERIOD."
Our goal is to provide:
Immediate relief
Gentle care
Proven results
Here are some Dental Emergency Tips from the American Dental Association.
We set aside time in our schedule every day to help with dental emergencies. We want to help you the same-day or ASAP to eliminate your pain and find a solution that works for you.
Common dental emergencies include:
Missing tooth/knocked-out tooth
Swollen and/or bleeding gums
Broken tooth
Chipped or cracked tooth
Unexplainable toothache/severe toothache
Abscessed tooth
Exposed nerves
Swollen mouth or jaw
Broken crown
Missing filling
Payment and Financing with Adams Dental Care
We want to remove the stress of financial barriers with our dental services, and though insurance plans can cover a portion of your treatment, we know dental insurance does not cover all expenses. That's why we accept multiple payment options, such as cash, check, credit card, or CareCredit Medical/Dental Card.
We Offer CareCredit Interest-Free Payments
By offering Care Credit, we want to remove the stress of making an immediate payment. Whether you're uninsured or underinsured, with CareCredit, you can pay in interest-free installments. Simply apply online.
CareCredit offers payment plans for:
3 months
6 months
12 months
48 months with extended financing
If you're unsure of what your insurance will cover, please bring in your dental insurance plan information with you to your appointment. We will work with you and your dental insurance provider to make sure you are getting maximum benefits. We can file most insurance claims for you too! Read more here about how to maximize your dental benefits before they expire each year. Call our office for a list of providers and to schedule your appointment today!
No Insurance? No Problem! We Offer a Dental Membership Program!
Our dental membership plan is not insurance, instead it's a qualified health plan under the Affordable Care Act, pre-payment for future services, or payment for access to discounted services. Think of a dental membership plan like other subscription services you join—like Netflix and Amazon Prime.
You pay a monthly or annual fee directly to our dental office, and in return you receive preventative care and discounts off other treatments. In other words, our dental membership plan is a direct payment arrangement for services, products and care provided.
The membership plan runs for 12 months and includes an auto-renewal feature. You can opt out of the auto renewal at any time from the Member Portal. You will receive an email reminder 45 days prior to the renewal date. See … No Insurance No Problem! Learn more HERE.
Our Patients get Great Care at an A
ffordable Price!
Bypass the costs and hassles of insurance—no deductibles, waiting periods, claims denials or paperwork
Gain benefits immediately upon sign-up
Access simple, affordable and personalized care
In just a matter of minutes, you can access:
A care plan personalized for your oral care needs
Pricing, discounts and benefits that enable you to get the comprehensive care you need
An affordable care plan with simple and transparent terms that you can trust
A direct relationship with your dentist that removes third-party hassles and costs and makes it easier for your dentist to provide the care you need
This plan is perfect for you if:
do not receive dental benefits from your employer
you self-fund your dental care
are retired and no longer have dental  coverage
If you already have insurance, this plan could be perfect for your friends and family if they self-fund their dental care or do not receive dental benefits from their employer.
Here's how it works:
You pay $340 per year, and our affordable dental membership plan will include:
(2) Professional Cleanings
(2) Regular Exams & Oral Screenings
Routine X-rays
Emergency exam(s)
PLUS, your plan includes 20% off all other services! 
Watch this VIDEO to Learn More
What Does Our Affordable Dental Membership Plan Include?
To summarize, our membership includes cleanings, exams, and routine x-rays at no additional cost … it's just one more way we strive to offer affordable dental care to our patients. It also offers exclusive discounts off other procedures, like fillings. Benefits start immediately and membership runs for 12 months from the date you join … No Insurance No Problem!
Learn Why It's Important to See Your Dentist.  
Don't Wait … Use Your Benefits Now.
Let us help you maximize dental insurance benefits! Did you know you can possibly save thousands of dollars by using your dental insurance benefits before the end of the year? Deductibles are often met, annual maximums won't roll over, and premiums may increase. So, it's more important than ever to use your dental insurance benefits throughout the year to maximize them. Call and make your appointments today to get on our schedule during the summer before the Back to School rush begins and schedules get busier!
Related Article: Your Dental Benefits — Use It or Lose It
Adams Dental Care Offers Affordable Dental Care
At Adams Dental Group, we offer affordable dental care that fits the needs of our patients and their family. Whether you're looking for a new dental home for preventative dental care or are interested in enhancing your smile with one of our many cosmetic dentistry procedures, we're excited to meet you! Please visit our website for additional details or give us a call at 913-296-8030 to discuss any questions you may have!
Local dentist, Travis A. Roberts and his experienced, friendly team at Adams Dental Group offer affordable family dentistry and gentle dental care in the Kansas City, KS area. We have two locations that are conveniently located and offer appointment times Monday through Friday to meet your needs. At Adams Dental Group, we provide most dental services, from family and general dentistry to specialty procedures, including dental implants, dentures, endodontic or root canal treatment, teeth whitening, cosmetic dentistry and much more. We accept most dental insurance plans and offer affordable financial solutions for any budget. Call us at our West location (913) 296-8030 or our East location (913) 621-3113 to schedule an appointment.
Dr. Travis A. Roberts, DDS November 29th, 2022
Posted In: Services | Procedures
Tags: accepting new patients, dental exam, dental membership plan, emergency dental services