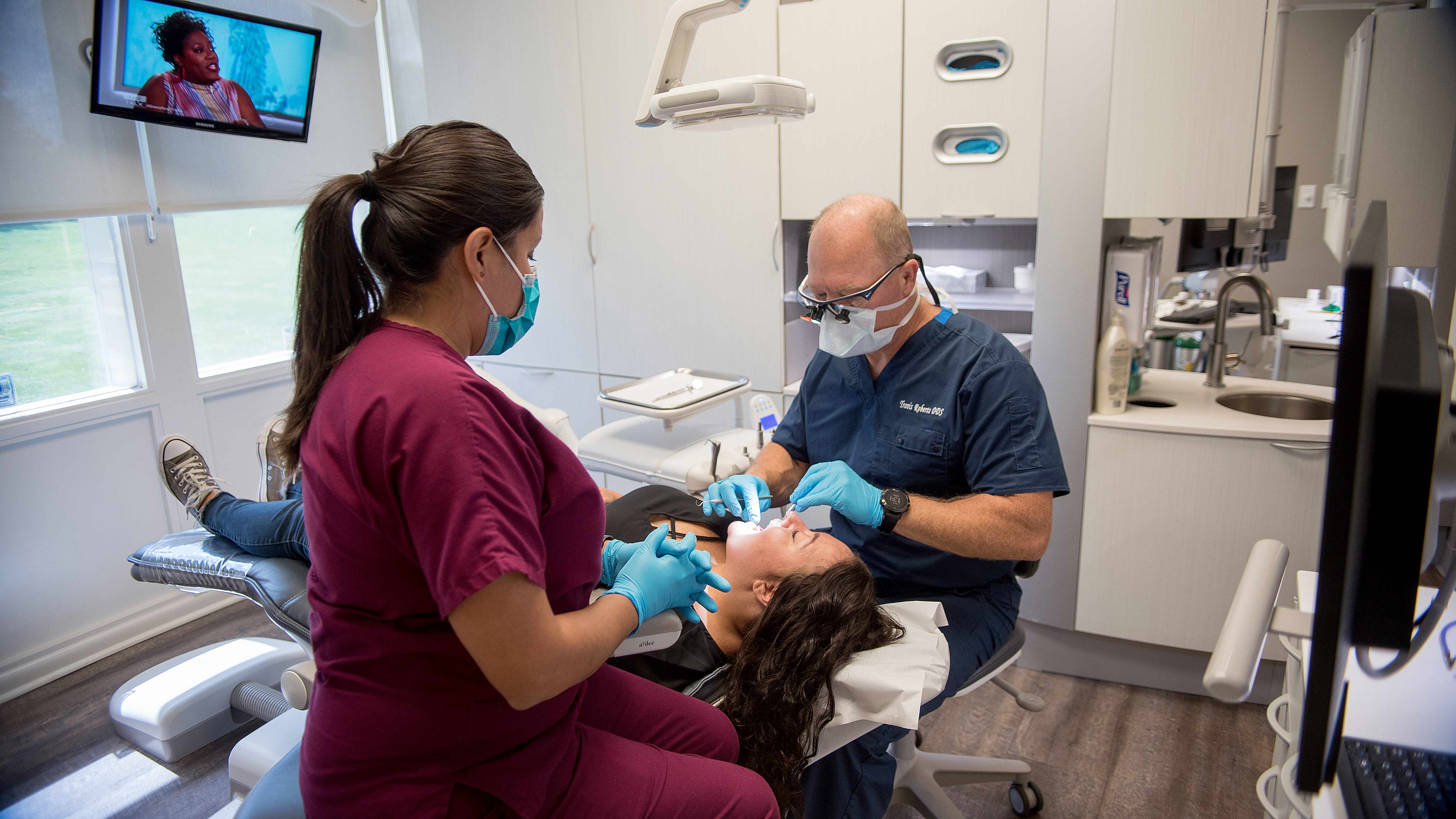 Making time in your schedule for regular dental exam may not be the most exciting thing you do, but it's so integral to your overall health and well being. When you regularly visit your dentist twice a year, you are getting so many benefits and taking a big step towards bettering your teeth and your health. When you stop going in for regular, 6-month checkups, you could end up dealing with major issues that cost you your peace of mind.
Read More about The ADA's stance on Regular Dental Exam Visits.
Major Advantages of a Regular Dental Exam
When you go see your dentist for your dental exam, there are a few things that happen. Your dentist will look at your teeth, your gums, possibly do X-rays, look for cavities, and, finally, clean your teeth. This helps with multiple things, such as:
Plaque, tartar build-up. No matter how well we may brush and floss, bacteria can still spread in our mouths and create a build up of plaque that your dentist can professionally remove after detection. If this goes unnoticed, plaque build up can lead to bigger dental issues, such as gingivitis. Once gingivitis is detected, a more serious treatment plan will be needed. Getting rid of that plaque and bacteria early on will help avoid this, and early detection of gingivitis will help tremendously!
Oral cancer detection. When your dentist examines your mouth, they are looking for anything that may be out of the ordinary. When you see your dentist every 6 months, the risk of detecting early signs of oral cancer is high and that can have a major impact on your overall health and wellness.
Checking under the surface. Just like your dentist looks at the surface of your teeth for any warning signs, X-rays allow your dentist to take a closer look at the root of your teeth and your jaw. This is a more accurate way of detecting any swelling, cavities, or any other issues unseen to the naked eye.
Read more about the Preventative Dental Care Adams Dental Group offers their patients.
6-Month Dental Exam Help Your Benefits Stay on Track
With the end of the year quickly approaching, it's important to remember that everything comes full circle with your dental insurance benefits. Talk with your insurance provider early in the year to discover what your dental benefits entail. Are preventative visits free as they often are? If so, then go ahead and schedule your 6-month checkups early on to avoid forgetting. Or better yet – schedule your next visit before you leave your dental exam appointment!
Read More about Dental Benefits.
When you make the most out of your dental benefits, you know your money is going to a great cause – your health! Don't let your deductible be of no use or let benefits slide past you, unused. Take care of your teeth and use your dental benefits to the maximum. The best way to do this is to see your dentist regularly so you know exactly how healthy you are and can plan for your future!
No Dental Benefits? We Have You Covered!
Our Membership Plan is a simple, comprehensive, and affordable dental care plan that we offer directly to our patients!
Covers your preventive care needs and discounts off other treatment!
Your benefits start immediately! There is no waiting period.
Your membership will run for 12 months from the date of purchase.
There are no deductibles, copays, pre-approvals, or annual maximums.
Includes full price transparency.
Purchase and manage your plan from any device.
For more information or to choose a care plan that best fits your needs…
Click here if you are a patient at Adams Dental Group West
Click here if you are a patient at Adams Dental Group East
Local dentist, Travis A. Roberts and his experienced, friendly team at Adams Dental Group offer affordable family dentistry and gentle dental care in the Kansas City, KS area. We have two locations that are conveniently located and offer appointment times Monday through Friday to meet your needs. At Adams Dental Group, we provide most dental services, from family and general dentistry to specialty procedures, including dental implants, dentures, endodontic or root canal treatment, teeth whitening, cosmetic dentistry and much more. We accept most dental insurance plans and offer affordable financial solutions for any budget. Call us at our West location (913) 296-8030 or our East location (913) 621-3113 to schedule an appointment.
Dr. Travis A. Roberts, DDS November 26th, 2019
Posted In: Dental Health Tips