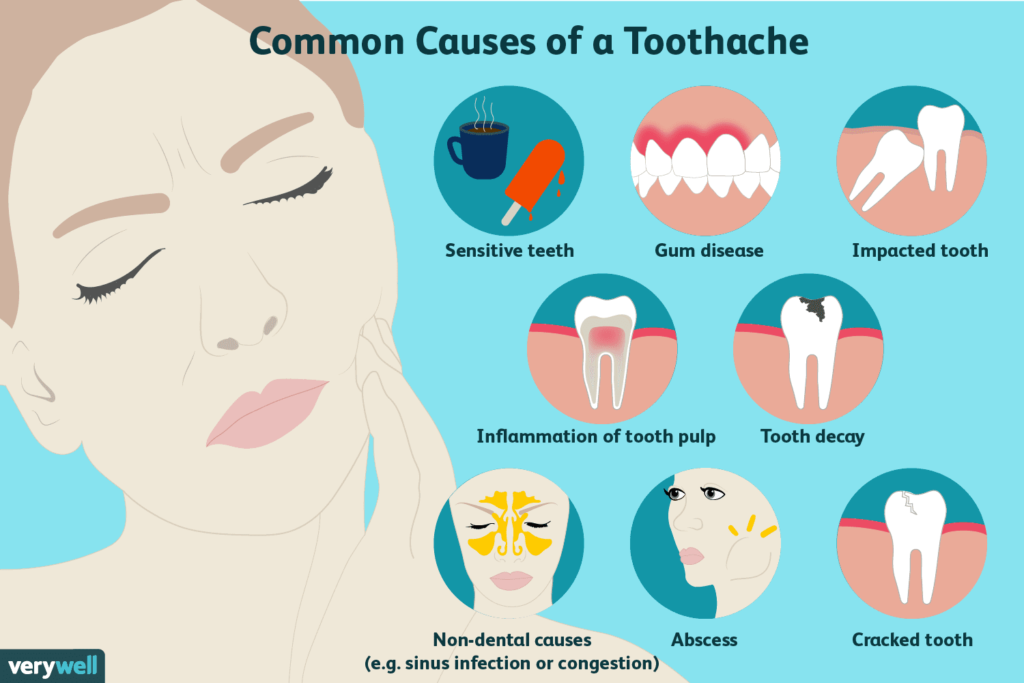 Any pain, ache, or soreness in your mouth is an unpleasant experience – also known as a toothache. Toothaches can cause sensitivity, both to temperature and touch (i.e. chewing), so it's important to let your dentist know if you're experiencing any of these oral issues. Once you notify your dentist, they can run a series of tests to diagnose the cause of your toothache and get you on a path to healing!
Once you're healed, you can finally enjoy that hot drink or cold bowl of ice cream you've been craving. Yes!
Read more about the causes of tooth sensitivity here.
Common Toothache Sources
Toothache symptoms:https://www.medicinenet.com/toothache/symptoms.htm
Toothache symptoms can be caused by problems in and around the mouth. However, they can also be from other factors outside the mouth, such as sinus infections and shingles that mimic a tooth ache. The most common toothache causes are:
Tooth fracture
Damaged filling
Tooth decay
Abscessed tooth
Grinding teeth
Infection in the gums
Keeping up with your oral hygiene routine is imperative to preventing a toothache. Make sure you're following your dentist's guidelines on brushing and flossing. Still, even with following your recommended treatment plan, toothaches can arise.
More on toothache causes and treatment: https://www.verywellhealth.com/why-does-my-tooth-hurt-1059322
If you experience intense pain, call your dentist right away. From there, your dentist will exam you and may ask a serious of questions to determine the root of the issue. After the exam and questions, your dentist may request digital imaging, such as an X-Ray to get a better look at what's going on. From there, treatment can be discussed. Your dentist may recommend taking an anti-inflammatory for the pain if the issue is not severe.
If you're having a dental emergency, call your dentist immediately. Click here for a few additional tips that may help!
However, if a damaged tooth or other issue is detected, a procedure may be the next step of your treatment plan. These treatments may include root canals if an infection is found, a cavity filling, or tooth extraction. According to Web MD, most toothaches are caused from tooth decay, so brushing, flossing, avoiding sugary foods, and scheduling your regular dental cleanings will greatly reduce your risk for toothache.
Here are a few additional articles surrounding the possible treatments if you are experiencing a toothache:
When is a tooth extraction necessary?
Get the Scoop on Root Canal Treatment
Gum Disease Explained: Signs, Symptoms & Treatments
Local dentist, Travis A. Roberts and his experienced, friendly team at Adams Dental Group offer affordable family dentistry and gentle dental care in the Kansas City, KS area. We have two locations that are conveniently located and offer appointment times Monday through Friday to meet your needs. At Adams Dental Group, we provide most dental services, from family and general dentistry to specialty procedures, including dental implants, dentures, endodontic or root canal treatment, teeth whitening, cosmetic dentistry and much more. We accept most dental insurance plans and offer affordable financial solutions for any budget. Call us at our West location (913) 296-8030 or our East location (913) 621-3113 to schedule an appointment.
Dr. Travis A. Roberts, DDS August 27th, 2019
Posted In: Dental Health Tips
Tags: dental emergency, tooth pain, toothache