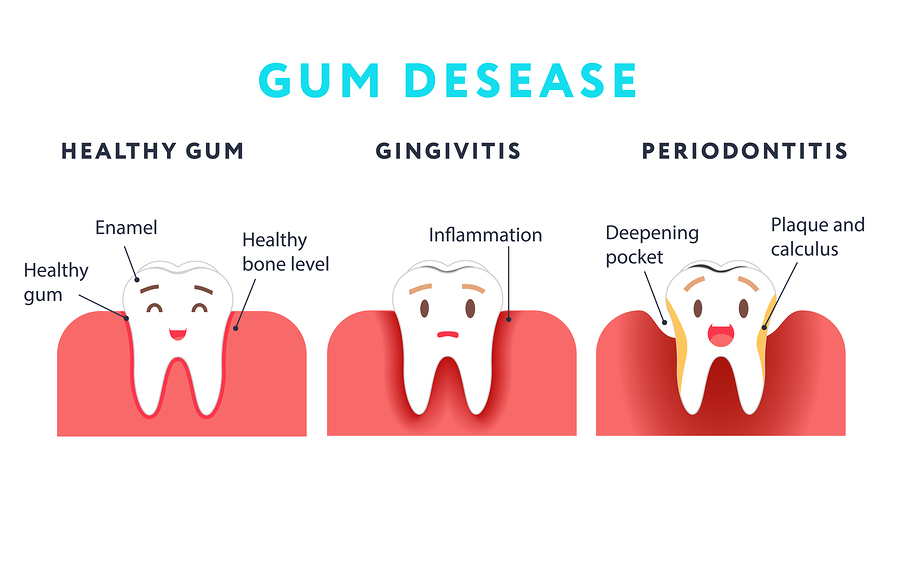 Hearing positive feedback after your teeth cleaning is one of the best feelings and maintaining good oral health practices is an essential way to greatly reduce your chances of a common dental ailment that affects most adults, gum disease. In a nutshell, gum disease is an infection of the tissue surrounding your teeth (the gums). However, there are different progressions of gum disease:
Mild – inflammation of the gums, also sometimes called gingivitis.
High – usually called periodontitis, at this stage the gums begin to pull away from the teeth and form pockets that can become infected, destroying tissue. At this stage, there is a higher risk of losing teeth and other health-related risks, such as oral cancer.
Gum Disease: Signs and Symptoms
Gum disease is created from an excess amount of plaque in the mouth and around the teeth and gums. Bacteria and other mouth particles form together to create plaque, which can harden over time and turn into tartar – which only a professional cleaning can remove. Symptoms of gum disease are sometimes painless, but often include:
Sensitive or loose teeth
Painful chewing
Red, tender, or swollen gums
Gums that often bleed when flossing or brushing
Constant bad breath
Learn more at: https://www.colgate.com/en-us/oral-health/conditions/gum-disease
Gum Disease: Treatment and Prevention
As with avoiding most oral diseases and complications, regular, twice-a-day brushing, and flossing goes a long way to prevent oral issues. Using a fluoride-based toothpaste and mouthwash are also extra helpful and aid in destroying plaque. Continue your dental cleanings and checkups, recommended at twice a year to also remove any excess plaque and tartar off your teeth and gums. Also, during your checkups, your dentist can evaluate the health of your gums and determine if you are experiencing any stages of gum disease.
For early/mild stages of gum disease, treatment is quite easy and usually dentists recommend getting a professional cleaning and upping your oral hygiene routine at home; maybe you need to floss more often, use a mouthwash more regularly, or quit smoking.
According to the National Institute of Dental and Craniofacial Research, smoking puts adults at a high risk for gum disease. Other risk factors may include diabetes, genetics, and certain medications. Once gum disease has advanced to periodontitis, however, treatment can become more intense and usually includes scaling, root planing, laser treatments, and even surgery to restore the bone.
Related article: What is Gum Disease?
Adams Dental Group can give your teeth a great cleaning and checkup
Dental professionals are true advocates of oral care. We are not only adamant about keeping teeth clean, but we­ are also concerned with your overall dental health. Checking for defects, abnormalities, and indications of severe issues in the bone, teeth, or gums are also at the forefront of our practice. Similarly, offering advice on how to properly care for teeth and correct certain habits is also a part of the patient education that we offer. Should you be looking for a dentist that is serious about oral care, contact our office to book a dental appointment.
Local dentist, Travis A. Roberts and his experienced, friendly team at Adams Dental Group offer affordable family dentistry and gentle dental care in the Kansas City, KS area. We have two locations that are conveniently located and offer appointment times Monday through Friday to meet your needs. At Adams Dental Group, we provide most dental services, from family and general dentistry to specialty procedures, including dental implants, dentures, endodontic or root canal treatment, teeth whitening, cosmetic dentistry and much more. We accept most dental insurance plans and offer affordable financial solutions for any budget. Call us at our West location (913) 296-8030 or our East location (913) 621-3113 to schedule an appointment.
Dr. Travis A. Roberts, DDS April 23rd, 2019
Posted In: Periodontal | Gum Disease
Tags: dental appointment, gum disease prevention, gum disease treatment