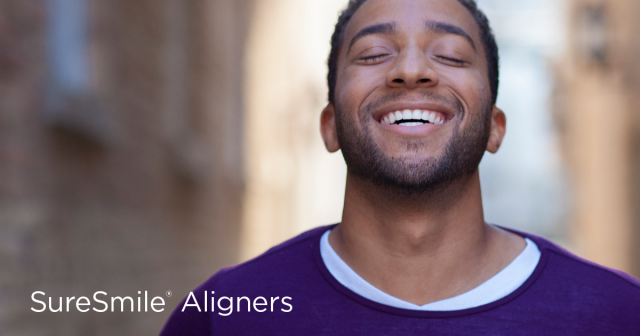 A smile is a wonderful first impression. With so many improvements in orthopedic technology, it's now possible to get a straight smile with invisible braces – SureSmile Clear Aligners!
SureSmile Clear Aligners are a great option for those looking for a discreet orthodontic treatment. Think "Invisible Braces" — that's Right!! No more noticeable and embarrassing metal braces, just convenience and results.
Dr. Travis A. Roberts, DDS June 23rd, 2020
Posted In: Cosmetic
Tags: invisible braces, SureSmile, SureSmile invisible aligners

Misaligned or crooked teeth can hold you back from feeling like your best self. No one likes worrying about their smile, and the thought of dealing with the time, money, and hassle of traditional metal braces is enough to make someone turn away from achieving their dream smile. However, with so many advancements in dentistry and technology, there are now many options for enhancing your smile. That's where the beauty of SureSmile clear aligners come into play! Today, it's easier than ever to feel good about your teeth.
Dr. Travis A. Roberts, DDS October 22nd, 2019
Posted In: Cosmetic
Tags: invisible aligners, SureSmile