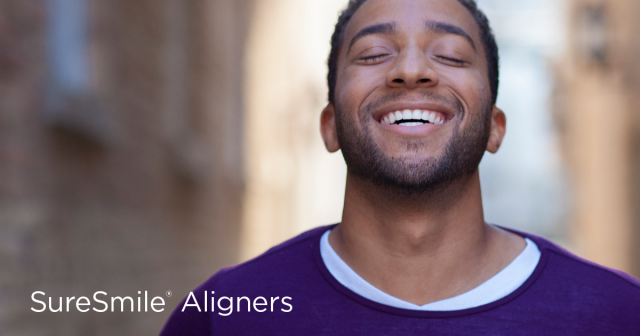 A smile is a wonderful first impression. With so many improvements in orthopedic technology, it's now possible to get a straight smile with invisible braces – SureSmile Clear Aligners!
SureSmile Clear Aligners are a great option for those looking for a discreet orthodontic treatment. Think "Invisible Braces" — that's Right!! No more noticeable and embarrassing metal braces, just convenience and results.
How Do They Work?
With comfort, invisibility, and convenience, it can be hard to believe that SureSmile clear aligners are real. However, there's real science and technology behind them that provide great results for patients. SureSmile has over 20 years of experience and uses their Virtually invisible Essix® (ACE) material for anatomically correct tooth movement and many clinical options – even for complicated cases.
WATCH THIS VIDEO to learn more about the technology of SureSmile Clear Aligners and how your treatment time can be shortened.
Once you visit our office, we create a treatment plan based on your needs. Then, we take a 3D look at your teeth to determine how your aligners will be designed. Once that 3D scan is completed, it is sent off to the lab and your aligners will be created there. You'll return to work directly with your dentist once your custom aligners are available and throughout your SureSmile journey.
SureSmile Clear Aligners will then get to work straightening your teeth in a short period of time! The results are also designed to last. Anatomically correct movements in the teeth ensure a smile that's straight for many years to come. They're unparalleled in technology.
"I feel like the aesthetics and the ability for me to transfer strategy to creating a beautiful smile is much more efficient and much more refined within the SureSmile® platform… in the end, I have a much better outcome that's healthier for my patient." – Dr. Roberts, Adams Dental Group 
Check out SureSmile for more information.
Benefits and Advantages
The advantages of SureSmile Clear Aligners can be broken down to four major advantages.
Invisibility. All aligners are clear and virtually invisible. Make sure to keep them clean to keep them clear! Brush them with your toothpaste and rinse clean.
Comfort. SureSmile Clear Aligners are made to fit your mouth perfectly. No more poky wire and metal braces – you'll get used to them in no time. They're also low maintenance and don't require frequent adjustments.
Removable. Unlike traditional braces that can't be removed, SureSmile Aligners can be removed to eat and brush your teeth! This means that they won't get in the way of your daily life and activities.
Customized Treatment. Working directly with Dr. Roberts and his Team at Adams Dental Group is key! Unlike some of the "mail-order" ortho treatment that is available, we are here to guide your smile treatment every step of the way to ensure your success.
Related Article: Cosmetic Dentistry Options: Helping YOU Achieve the Smile YOU Want
Dr. Roberts would love to talk with you about your smile. Give us a call to schedule your smile appointment, because SureSmile clear aligners are now available at Adams Dental Group.
Local dentist, Travis A. Roberts and his experienced, friendly team at Adams Dental Group offer affordable family dentistry and gentle dental care in the Kansas City, KS area. We have two locations that are conveniently located and offer appointment times Monday through Friday to meet your needs. At Adams Dental Group, we provide most dental services, from family and general dentistry to specialty procedures, including dental implants, dentures, endodontic or root canal treatment, teeth whitening, cosmetic dentistry and much more. We accept most dental insurance plans and offer affordable financial solutions for any budget. Call us at our West location (913) 296-8030 to schedule an appointment.
Dr. Travis A. Roberts, DDS June 23rd, 2020
Posted In: Cosmetic
Tags: invisible braces, SureSmile, SureSmile invisible aligners