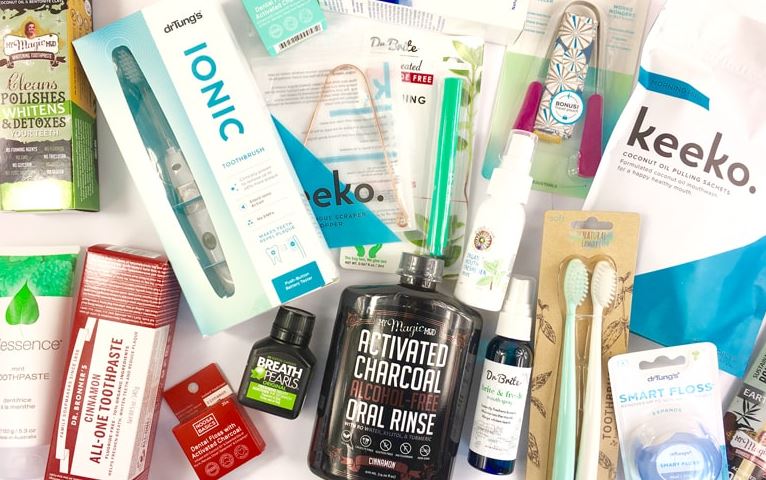 Oral Hygiene Trend: Natural Oral Hygiene Products
In one of your recent trips to the grocery store, you've probably seen the increase in natural products. Natural deodorants, skincare, organic snacks, and even all-natural oral hygiene products. While the idea of all-natural toothpastes, mouthwashes, etc. sound appealing, are they as effective as what we're used to?
According to Dentistry Today,
"The global market for oral hygiene products such as toothbrushes, toothpastes, and mouth rinses will grow at a compound annual growth rate of 3.29% from 2018 to 2022, according to Research and Markets."
So, the demand for more natural ingredients and products is definitely true, but do the products work as well as traditional products?
Read more: Natural Products Drive Oral Hygiene Market Growth
Natural Toothpaste Effectiveness
The main concern is fluoride. Many natural toothpastes do not contain the ingredient, which many dental experts say is essential to healthy teeth. Dr. Uchenna from Women's Health Magazine, states that
"Natural toothpaste is not better than regular toothpaste. This all depends on what you mean by 'natural'. Most commonly this is to do with fluoride and, if that is the case, I do not agree it is better."
Dr. Eskander also told Women's Health,
"Fluoride is a key ingredient to prevent cavities, which many natural toothpastes lack. Toothpaste is, I think, the best way to get your dose of fluoride which has been proven to be effective in preventing tooth decay. It works best topically and daily coating of the enamel is key. But, with toothpaste, you only need a pea sized amount, most people use too much. Don't be fooled by false marketing. Fluoride is safe and effective when used properly."
Read the article: Natural Toothpastes: Do they work? Dental Experts Weigh In
However, Dr. Eskander also notes that non-natural toothpastes can sometimes contain a harmful ingredient known as SLS. It is a skin-irritant and can get rid of your natural oils. She states that while she thinks it's great that natural toothpastes are SLS free, she urges consumers to look at the ingredients closely and make sure there do not include any added flavorings with sugar. While traditional toothpaste could use an overhaul, Dr. Eskander states, there isn't the perfect natural toothpaste, just yet.
If you are using a natural toothpaste without fluoride, you could try introducing a fluoride mouthwash twice a day to add some fluoride into your oral health routine.
Related Article: Effectiveness of Herbal Oral Care
A Holistic Approach
As mentioned, there is a growing trend towards a more holistic health approach. More people are straying away from using fluoride and other unnatural toxic materials, like mercury. This trend toward a more natural, whole-body approach to oral  healthcare and hygiene represents a paradigm shift in dentistry. There is certainly value in looking at the whole patient, including lifestyle and diet when developing a dental care relationship and treatment plan. However, it's important that both patients and dentists communicate clearly. Ask your dentist to advise what treatments are supported by evidence and which may or may not be helping.
If you're looking for natural options, check out these Natural Oral Hygiene Products from Allure Magazine's Article, 9 Best Natural and Organic Toothpastes, according to dentists
Regular Dental Exams Catch and Prevent Problems
Regardless of where you stand on toothpastes with fluoride vs. natural oral hygiene products, we can all agree on one thing … scheduling regular dental exams are important to the beauty and health of your smile.
While you may not think much of getting your teeth professionally cleaned and examined, the benefits are ginormous. Preventative dental appointments or regular dental cleanings and exams should be every six months and it's the perfect opportunity for your dentist to inspect your mouth for any issues.
These can be:
Cavities
Gum disease
Oral Cancer
The best way to help oral health issues is early detection, so staying on top of your appointments is key to your oral health status. Not everyone stays on top of their oral health routines, hygiene habits, diet, etc., making it even more imperative for a checkup. Even if your dentist doesn't find any issues, you'll have peace of mind that your oral health is in good standing. A majority of people need a dental cleaning twice a year. Others who build up heavy stain and tartar or are battling gum disease need to have a teeth cleaning more often.
Related Articles:
Preventative Dentistry Explained
Preventative dentistry is also commonly known as general dentistry. These dental services include your regular dental exams, cleanings, and x-rays. When you go to the dentist for your normal cleanings and visits, you're dealing with preventative dentistry.
We offer:
Dental cleanings
Oral cancer screenings
Early dental diagnosis
Fluoride and sealants
Home care coaching
Mouth guards and retainers
This is because cleanings can prevent future oral health issues. With good preventive care, you can avoid costly and frustrating oral health issues in the future. So, it's extremely important to see your dentist often for checkups. During checkups, dentists can also look for any signs and symptoms of serious oral health issues – providing a great defense and early detection.
Learn more about Preventative Dentistry.
We Provide Regular Dental Exams & Emergency Appointments 
At Adams Dental Group, we are prepared to assist our patients when they need a regular dental exam and cleaning or when a dental emergency occurs. Should you be experiencing a toothache, severe pain, swelling, tooth loss, mouth trauma or any other conditions that require urgent care, contact us at 816-373-4440 immediately. Our team of experts will work swiftly and meticulously to alleviate pain and solve the issue. When patients call in this type of scenario, we always do our best to accommodate a same day emergency appointment. You may not be able to anticipate when a dental emergency will happen; however, you can rest assured that you will receive swift expert emergency care when you call our office. Contact Us to receive a reliable same day emergency appointment.
Related Article: We Offer Dental Emergency Appointments and Are Accepting New Patients
Making a Difference One Dental Exam at a Time
Regular cleanings and dental exams are a wonderful preventative care option whether you work, live, or play in the Kansas City, Kansas area. Remember, even though you may be brushing and flossing really well at home, tartar and plaque is impossible to remove with regular brushing and flossing, and can build-up over time. Dentists are able to use specific tools to remove that plaque and tartar, keeping our mouth cleaner and our chances of other complications much lower.
We believe everyone should love their smile and have access to affordable dental care. Learn more about the services we offer to all ages and contact us to book your appointment or schedule your dental appointment. We are currently accepting new patients and we look forward to meeting you and helping you maintain, improve or enhance your smile!
Adams Dental Care Offers Affordable Dental Care
At Adams Dental Group, we offer affordable dental care that fits the needs of our patients and their family. Whether you're looking for a new dental home for preventative dental care or are interested in enhancing your smile with one of our many cosmetic dentistry procedures, we're excited to meet you! Please visit our website for additional details or give us a call at 913-296-8030 to discuss any questions you may have!
Local dentist, Travis A. Roberts and his experienced, friendly team at Adams Dental Group offer affordable family dentistry and gentle dental care in the Kansas City, KS area. We have two locations that are conveniently located and offer appointment times Monday through Friday to meet your needs. At Adams Dental Group, we provide most dental services, from family and general dentistry to specialty procedures, including dental implants, dentures, endodontic or root canal treatment, teeth whitening, cosmetic dentistry and much more. We accept most dental insurance plans and offer affordable financial solutions for any budget. Call us at our West location (913) 296-8030 or our East location (913) 621-3113 to schedule an appointment.
Dr. Travis A. Roberts, DDS March 21st, 2023
Posted In: Dental Health Tips
Tags: dental appointment, dental emergency, dental exam, oral hygiene