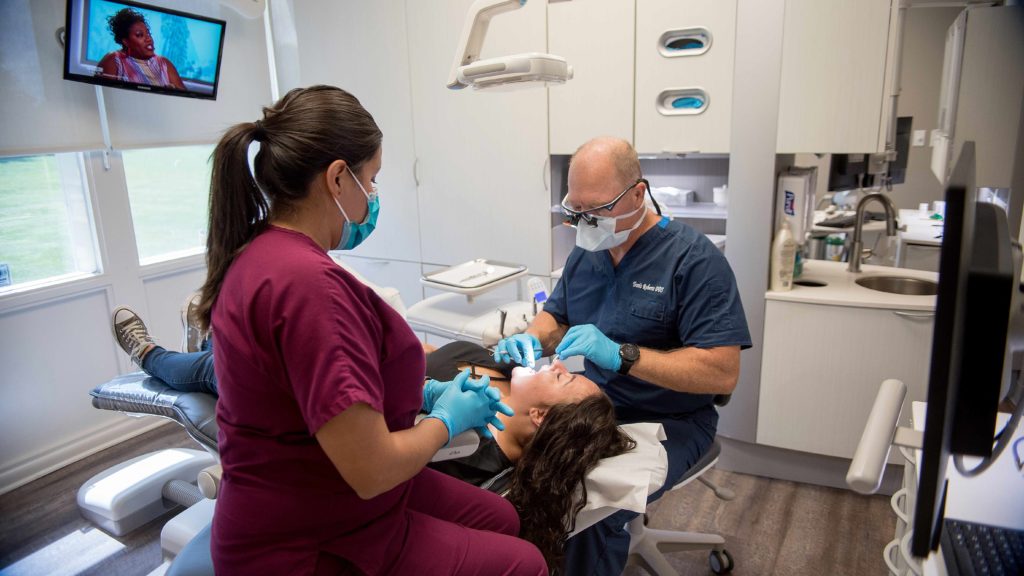 Good oral hygiene is essential. Taking adequate care of your teeth and gums every day is necessary for maintaining excellent dental health. Brushing your teeth at least twice daily, coupled with flossing and occasional use of mouthwash makes for a great practice. A well-maintained routine clears the mouth of bacteria that can cause tooth decay, infections, and poor oral conditions.
Many dental professionals advise their patients to adopt healthy oral practices. Eating healthier and cleaning teeth regularly are part of their advice. Visiting the dentist frequently is a critical part of your oral healthcare.
Related Article: 6-Month Dental Appointment: Why it's Important
At least two dental visits per year are recommended, and here's why:
Plaque Builds Up on Teeth Every Day
Plaque is a thin sticky substance. It is partly composed of bacteria which can cling to the teeth and cause undesirable conditions such as tooth decay and periodontal disease.
Plaque is derived from sugary and starchy foods. As we consume these foods throughout the day, and our mouths are not cleaned properly, particles attach to our teeth often leaving an uneven texture. Regular brushing is necessary to eliminate and manage the build-up of this film. We must eat daily, and with occasional missteps in our at-home routines, plaque develops and grows. As a result, scheduled cleanings, especially deep cleanings, are required to eradicate surface plaque and the kind that becomes concealed beneath gums and between teeth.
Habitual dental visits, at least twice a year, are ideal for patients. It provides dentists with the opportunity to assess teeth and deliver a cleaning that cannot be achieved at home. Each dental appointment offers a step forward to a healthier mouth, better oral hygiene, and the prevention of periodontal disease.
Related Article: Perio Scaling: Treating a Creepy Problem
Check-ups for the Prevention of Oral Diseases & Infections
In addition to cleanings, dentists provide check-ups and thorough examinations. They check for visible oral damage, such as indications of decay, cavities, loose teeth, and other apparent signs.
Dentists also perform X-rays and other assessments to determine what is occurring below the surface. Those exams are required every six months as it enables the detection of changes in the teeth and jaw bone. Impacted teeth, infections below the gum line, cracks or fractures of the bone, and other problems can be evaluated.
New or worsened habits can impact your oral health and cause issues that can develop very quickly.  So, choosing to see your dentist at least twice a year can help you receive the preventative care and treatment that you might need.
Related Article: How Diabetes and Oral Health are Connected
Adams Dental Group Believes in Professional Oral Care
Dental professionals are true advocates of oral care. We are not only adamant about keeping teeth clean, but we are also concerned with your overall dental health. Checking for defects, abnormalities, and indications of severe issues in the bone, teeth, or gums are also at the forefront of our practice. Similarly, offering advice on how to properly care for teeth and correct certain habits is also a part of the patient education that we offer. Should you be looking for a dentist that is serious about oral care, contact our office to book a dental appointment.
Local dentist, Travis A. Roberts and his experienced, friendly team at Adams Dental Group offer affordable family dentistry and gentle dental care in the Kansas City, KS area. We have two locations that are conveniently located and offer appointment times Monday through Friday to meet your needs. At Adams Dental Group, we provide most dental services, from family and general dentistry to specialty procedures, including dental implants, dentures, endodontic or root canal treatment, teeth whitening, cosmetic dentistry and much more. We accept most dental insurance plans and offer affordable financial solutions for any budget. Call us at our West location (913) 296-8030 or our East location (913) 621-3113 to schedule an appointment.
Dr. Travis A. Roberts, DDS December 18th, 2018
Posted In: Dental Health Tips
Tags: dental appointment, oral care, oral health