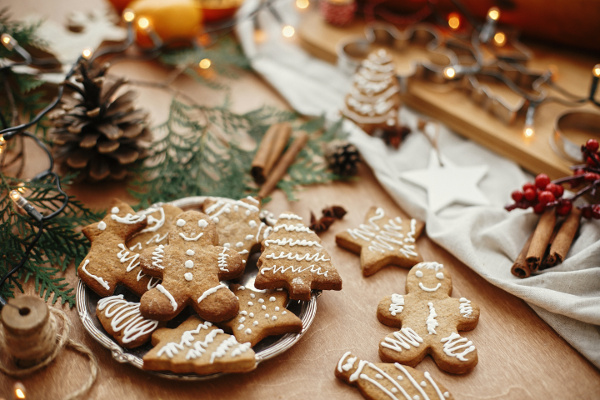 When you think of holidays, "protect your smile" is probably NOT at the top of your to-do list! Most of us can't wait for the sugary confections and delicious treats that come with the holiday season. Christmas is only days away and New Year's parties are being planned. You may be last-minute gift shopping and fretting over your holiday outfits and upcoming family events.
With all the joy and excitement the holidays bring us, all the excess sugar we consume can lead to an abundance of bacteria in our mouths. I know – it's gross to think about, but thinking about our oral health now can save us a toothache once the holidays are over. Here's what you can do!
Avoid the Overload
Steven Chussid, DDS, is an associate professor of dental medicine at Columbia University College of Dental Medicine. Chussid says to WebMD, "Eat a single dessert and brush your teeth afterward. You'll expose your teeth to less sugar [with a single treat] than if you're constantly snacking, and that reduces the risk of tooth decay."
So, be picky with your treats and try to eat them along with your meal. The excess saliva from eating will also help wash out bacteria so it doesn't linger on your teeth for too long. It's also a great idea to up your water intake. It not only is great for you, but also helps wash away bacteria and aid in digestion and fresh breath.
Keep Reading to Learn More:
Keep up with Your Dental Routine
If you're traveling, make sure to pack all items you need to protect your smile for your daily oral health routine. With so much going on, it can be easy to forget to take care of your teeth, but it makes such a big difference in your overall health and wellbeing.
Did you know that by taking care of your mouth, teeth, and gums, you're also taking care of your entire body? With cooler weather, and seeing more people, often brings on more illnesses, so keeping your mouth (which is your first line of defense) healthy, is a sure way to boost your immune system. Also, try to get as much rest as possible over the holidays to reduce stress. A good amount of sleep plays a big role in your dental health and overall health.
Related Article from Mayo Clinic: Oral Health: A Window to Your Overall Health
Be Especially Careful with Certain Treats
Did you know that apples, strawberries, and kiwis actually help scrub your teeth when you eat them? The natural fibers in these fruits, combined with your saliva, protect your smile and help wash away harmful bacteria. While these fruits are great to eat, there are certain holiday treats to be extra wary of:
Peppermint bark
Candy canes
Caramels, taffy, peanut brittle, and pecan pie
Popcorn
Basically, treats that are hard to chew or are chewy and sticky, can lead to damage for your teeth. If you're in need of an Emergency Dental Appointment due to a toothache or cracked tooth, give us a call at 913-296-8030.
Remember to Schedule Your Dental Exam and Cleaning
Regular dental exams and cleaning is wonderful preventative care. Although you may be brushing and flossing really well at home, tartar and plaque is impossible to remove with regular brushing and flossing, and can build-up over time. Dentists are able to use specific tools to remove that plaque and tartar, keeping our mouth cleaner and our chances of other complications much lower.
We are excited to let you know that we are now offering our very own affordable dental membership plan that covers all your preventative care and gives you discounts on other procedures. It is a simple and budget-friendly dental plan offered directly from our practice — so you can access the care you want and deserve, for less. Learn more: Get Affordable Dental Care with our Affordable Membership Plan
Protect Your Smile … Come See Us!
If you're due for a dental cleaning or check-up, it's the perfect time to see Dr. Roberts. Dental benefits will end on Dec. 31, so use your benefits to the fullest and make an appointment today to keep your teeth healthy, shiny, and beautiful.
Local dentist, Travis A. Roberts and his experienced, friendly team at Adams Dental Group offer affordable family dentistry and gentle dental care in the Kansas City, KS area. We have two locations that are conveniently located and offer appointment times Monday through Friday to meet your needs. At Adams Dental Group, we provide most dental services, from family and general dentistry to specialty procedures, including dental implants, dentures, endodontic or root canal treatment, teeth whitening, cosmetic dentistry and much more. We accept most dental insurance plans and offer affordable financial solutions for any budget. Call us at our West location (913) 296-8030 or our East location (913) 621-3113 to schedule an appointment.
Dr. Travis A. Roberts, DDS December 7th, 2021
Posted In: Dental Health Tips
Tags: dental exam, oral hygiene