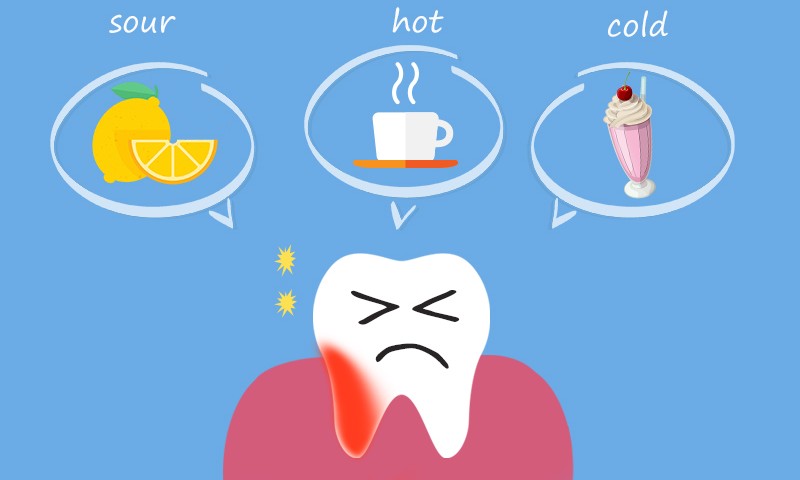 When you meet a friend at a coffee shop, do you worry about the hot or cold drink on your teeth? Does the cold air or sour candy make your teeth hurt for a time? If so, you may be suffering from sensitive teeth. Sensitive teeth, also known as dentin hypersensitivity, is fairly common and can often be controlled by changing your oral hygiene routine or speaking with your dentist.
What can you do about sensitivity? Get some suggestions from WebMD HERE.
Signs and Symptoms of Sensitive Teeth
There are often triggers that make people experience their tooth sensitivity. These often include:
Cold air and beverages
Hot drinks
Sweet and acidic foods
Cold water
Brushing or flossing
Mouth rinses with alcohol
These triggers may range from mild to intense, depending on your sensitivity level, and you'll often feel the pain at the root of the tooth.
Learn more about sensitive teeth HERE.
Causes of Sensitive Teeth
Although the symptoms of teeth sensitivity are easy to explain, knowing why your teeth are sensitive may be harder to uncover. Oftentimes, the cause of sensitivity is the enamel of the tooth. Some people have less enamel than others, and some people have worn their enamel down and caused sensitivity that way. This may be from:
Teeth grinding
Brushing too hard, or using a hard toothbrush
Eating and drinking acidic drinks and food regularly
Related Article: Are You Stressed?? Are you teeth grinding or clenching? 
Tooth decay, GERD, gum recession, and teeth bleaching can also have an effect on tooth enamel and cause dentin hypersensitivity. If you've recently undergone a dental filling or crown, you may also experience tooth sensitivity, but it should be very temporary and subside within a few days after your procedure.
Causes, remedies, and treatments of sensitive teeth.
Related Article: What does Oral Bacteria have to do with a Pretty Smile?
How Do I Help my Tooth Sensitivity?
To diagnose your tooth sensitivity, make an appointment with your dentist so you can discuss your symptoms. Your dentist can exam your teeth and determine the health of your teeth to discover why you're experiencing sensitivity. The treatments for a mild form of tooth sensitivity often include:
Using softer toothbrushes, gentler toothpaste that is made for sensitive teeth
Alcohol-free mouthwashes
These small changes can make a giant effect on the sensitivity of your teeth. If these aren't effective, talk to your dentist about more options.
Local dentist, Travis A. Roberts and his experienced, friendly team at Adams Dental Group offer affordable family dentistry and gentle dental care in the Kansas City, KS area. We have two locations that are conveniently located and offer appointment times Monday through Friday to meet your needs. At Adams Dental Group, we provide most dental services, from family and general dentistry to specialty procedures, including dental implants, dentures, endodontic or root canal treatment, teeth whitening, cosmetic dentistry and much more. We accept most dental insurance plans and offer affordable financial solutions for any budget. Call us at our West location (913) 296-8030 to schedule an appointment.
Dr. Travis A. Roberts, DDS August 31st, 2020
Posted In: Dental Health Tips
Tags: tooth sensitivity