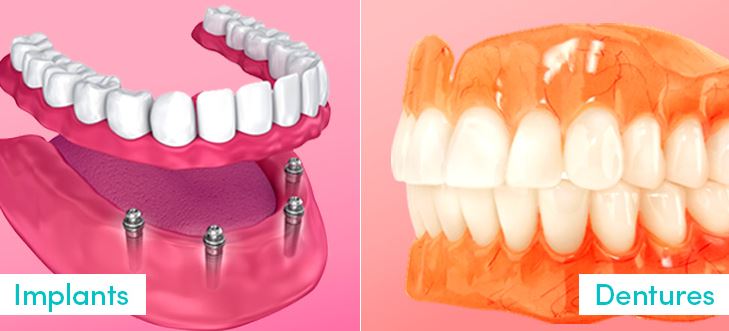 Are you considering tooth replacement options? We're tackling the pros and cons of dental implants vs. dentures in this article.
There's no reason to be ashamed of missing teeth. Tooth loss is actually quite common in all ages of people. In fact, according to the American Academy of Implant Dentistry, Nearly 70% of adults aged 35 to 44 years have at least one missing tooth, and 1 in 4 people over the age of 74 are missing all of their teeth. Although our forefathers used materials such as ivory, human bone, and metal to replace missing teeth, today's technology has greatly advanced in tooth replacement options. Today, there are two major options for missing teeth – dental implants and dentures. So, which option is right for you?
Related Article: How to Choose Dental Implants vs. Dentures
Are Dentures or Implants Necessary?
If you're missing teeth, replacement options can help restore your confidence and also restore the health of your mouth. The first question you'll have to ask your dentist, and yourself, is if you need a tooth replacement option such as dentures or implants. When you're missing teeth in your smile, your confidence can take a hit and you can find yourself hiding your smile. However, missing teeth can do more damage than just diminishing your confidence. Missing teeth can cause:
Bacteria overload. When our gums are exposed, it's much easier for food and bacteria to get stuck. When food bits or bacteria isn't removed, infections can form.
Gum disease is more prevalent when teeth are missing.
The teeth next to your missing gap can shift and move around to cover for your lost tooth. If your teeth move too much over time, your jawbone can also shift and make your mouth unstable.
So, basically, tooth replacement can help with a whole host of issues. Now that you know how imperative tooth replacement is, let's go over your options for dental implants vs. dentures.
Adams Dental Group offers Restorative Dentistry Options: Learn more about Our Services
Dentures
Dentures are removable teeth replacements that either come as a full set or a partial set. They are a popular option for those who are missing multiple teeth and have been a dental option since 700 BC. Dentures look more natural than ever before and are often less expensive that dental implants. They also give you freedom since they are removable and are a great option for patients with weak or unhealthy jaws.
However, dentures can slip out of place if they're not adhered well and can cause infection or decay if they do not fit properly. They need cleaned regularly and may need replaced after wear and tear.
Dental Implants
Unlike dentures, dental implants are not removable. They're permanent and last longer. They're also easier to maintain compared to dentures because once they're implanted, they don't require any special care. If you're wanting an option that feels as natural as your real teeth, dental implants are a great option for you. Implants do require titanium posts to be screwed to your jawbone, so it's important to know about the procedure involved.
Related Articles:
Dental Implants vs. Dentures: Let's Have a Conversation
If you're ready to take the next step in your smile journey, and are considering dental implants vs. dentures, we'd love to talk with you more about starting the process. We will create a customized dental plan that works with your schedule to achieve the smile of your dreams with dental implants or dentures, depending on which option is the best for you. We can help restore not only the beauty of your smile, but also the form and function of your teeth. Please schedule a consultation with Dr. Roberts at Adams Dental Group we look forward to talking with you and creating a treatment plan customized especially for you.
Local dentist, Travis A. Roberts and his experienced, friendly team at Adams Dental Group offer affordable family dentistry and gentle dental care in the Kansas City, KS area. We have two locations that are conveniently located and offer appointment times Monday through Friday to meet your needs. At Adams Dental Group, we provide most dental services, from family and general dentistry to restorative procedures, including dental implants, dentures, endodontic or root canal treatment, teeth whitening, cosmetic dentistry and much more. We accept most dental insurance plans and offer affordable financial solutions for any budget. Call us at  (913) 296-8030 to schedule an appointment.
Dr. Travis A. Roberts, DDS July 12th, 2022
Posted In: Services | Procedures
Tags: dental implant, dentures, restorative dentistry, tooth replacement options