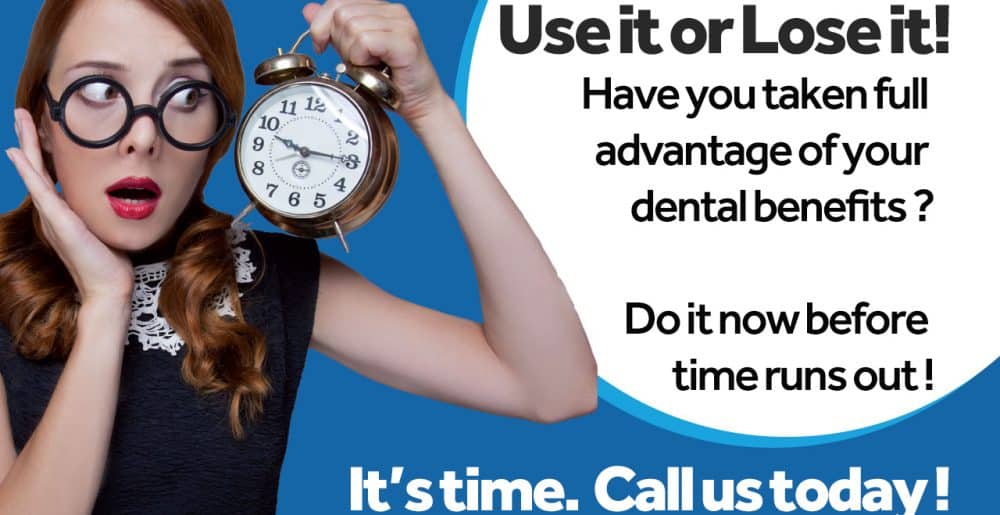 Put Your End of Year Dental Insurance to Work Before Time is Up!
It's that time of year where everything hits the gas pedal. Days become shorter as the sun sets earlier, and the months begin to fly by and become cooler in temperature. However, in between all the chaos of football games, holidays, and everything else that takes room in your life, it's important to stay on top of your oral health and use your dental insurance before the end of the year. Before you know it, 2019 will be in the books. 2020, here we come!
Related Article: Use Your Dental Benefits to the Maximum
End of Year Dental Insurance: Use it, or Lose it
Most people aren't reaching their maximum dental benefits each year, meaning that those deductibles aren't being fully put to use before they expire on December 31. Don't let any benefits go to waste! Here's a few tips for getting the most out of your end of year dental insurance benefits before they're gone:
Make your dental appointments ahead of time. That way, appointments won't sneak up on you and you won't miss one. Make each appointment to your convenience when you leave each dentist appointment. Put them on your calendar and celebrate how organized you are!
Talk with your dentist about your dental treatment needs, so you know what to plan for. Once you know what you need, you can determine what insurance will cover!
Prevention, prevention, prevention! Preventative visits are often 100% covered by insurance, so stay on top of your oral health without cost. It's a win, win, and it'll save you time and money later. What's better than that?
Make the most of your FSA. Plan out your services so you don't put too much money into your FSA account. Talk with your dentist about any upcoming services and talk with your FSA admin. to discuss what services are covered.
Read this article from WebMD on More on End-of-the-Year Benefits .
The Perfect Time for Checking in on Your Oral Hygiene
If you know you don't have any costly dental procedures in the last few months of the year, it's also good to check in with your dentist. With Holidays happening so often in the fall and winter, we may not be paying super close attention to our oral health and hygiene. Lots of desserts and candy can get lost in-between our teeth and cause cavities. Keep up with your normal dental cleaning schedule to keep any future issues at bay! Preventative visits are almost always fully covered by insurance, so take advantage while you can. When you ignore or delay treatments, problems worsen and treatments become more advanced, and expensive, down the road.
Related Articles: Fall is the Time to Use it or Lose it  | 2018 Dental Insurance Benefits: Use It OR Lose It
Local dentist, Travis A. Roberts and his experienced, friendly team at Adams Dental Group offer affordable family dentistry and gentle dental care in the Kansas City, KS area. We have two locations that are conveniently located and offer appointment times Monday through Friday to meet your needs. At Adams Dental Group, we provide most dental services, from family and general dentistry to specialty procedures, including dental implants, dentures, endodontic or root canal treatment, teeth whitening, cosmetic dentistry and much more. We accept most dental insurance plans and offer affordable financial solutions for any budget. Call us at our West location (913) 296-8030 or our East location (913) 621-3113 to schedule an appointment.
Dr. Travis A. Roberts, DDS October 8th, 2019
Posted In: Dental Health Tips
Tags: dental insurance