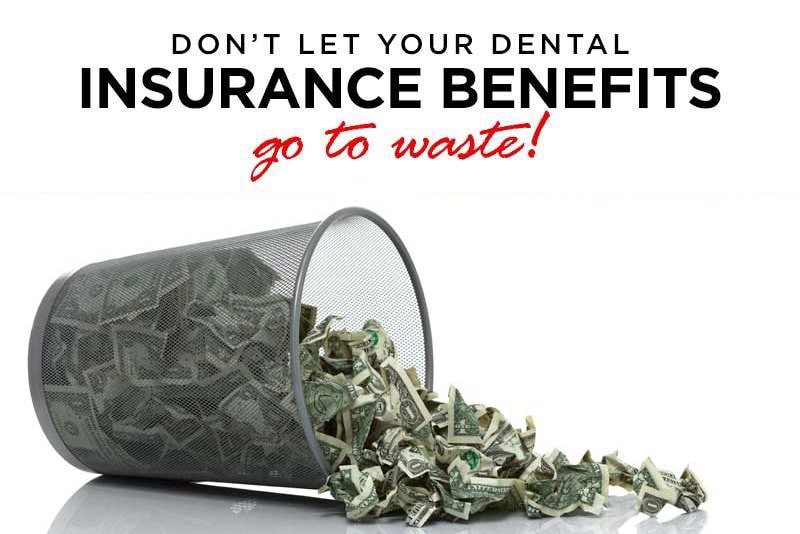 Dental insurance is a form of health coverage that offers, in most situations, 100% coverage or compensation for basic care or services performed on teeth. Insurance generally covers cleanings, fillings, and tooth extractions. With dental insurance benefits, patients are left having to pay very little or only a fraction of the cost for a dental service.
Despite this coverage, some people often put off their cleaning or any other dental work. They are either too busy or simply unaware that the benefits offered by their insurance are only for that year. Unfortunately, if dental insurance benefits are left unused, they will expire! Continue reading below to understand the importance of using your dental insurance benefits on time.
Why Do Dental Insurance Plans Expire?
Most dental insurance plans have a maximum amount that is set aside for dental work each year. This cut-off indicates the highest sum a provider will pay for treatments in that year. If the amount stated on your plan is not used, it will not roll over to the following year. So, if left untouched, you will permanently lose the allocated amount for that year.
The end of 2018 is near, and 2019 is rapidly approaching. People who have been procrastinating on getting any dental work done should make an appointment soon to avoid disappointment. Consider getting your annual or semi-annual cleaning and utilize the benefits you are offered under your plan.
Understand Your Dental Insurance Plan

Before you begin using your dental insurance, you should be completely aware of your eligibility. Understand the services you are covered for by speaking with your provider. They can provide the most detailed information on the services that receive complete coverage and the ones that receive only partial coverage. With this information, you will know which services you can take advantage of at your dental office.
Put Your Dental Health First
Maintaining a healthy mouth is essential for many reasons. It contributes to your oral health, which in turn benefits your overall well being. Flossing and brushing are great, but regular visits to the dentist also contribute to the reduction of adverse health effects. Deep cleaning as well as the forms of oral care offered by dental hygienists can maintain or vastly improve your health. Going to the dentist offers preventive care that can combat gum disease, tooth decay, bad breath, and other oral issues.
Related Articles:
6-Month Dental Appointment: Shy it's Important at Adams Dental Group
What to look for in Family Dentistry in Kansas City, KS
Adams Dental Group Accepts Dental Insurance
At Adams Dental Group, we believe that dental care is essential at any age. Our team of professionals offers a high level of care to our patients. We have worked with patients in varying degrees of health and provide personalized attention to every person entering our office.
If you have dental insurance and have been putting off an appointment with the dentist, we encourage you to contact us before the year is up. We will provide the dental care you require, and we will happily discuss the dental insurance benefits assigned to your dental plan. For more information about the services at Adams Dental Group, feel free to contact our friendly staff.
Local dentist, Travis A. Roberts and his experienced, friendly team at Adams Dental Group offer affordable family dentistry and gentle dental care in the Kansas City, KS area. We have two locations that are conveniently located and offer appointment times Monday through Friday to meet your needs. At Adams Dental Group, we provide most dental services, from family and general dentistry to specialty procedures, including dental implants, dentures, endodontic or root canal treatment, teeth whitening, cosmetic dentistry and much more. We accept most dental insurance plans and offer affordable financial solutions for any budget. Call us at our West location (913) 296-8030 or our East location (913) 621-3113 to schedule an appointment.
Dr. Travis A. Roberts, DDS October 9th, 2018
Posted In: Community