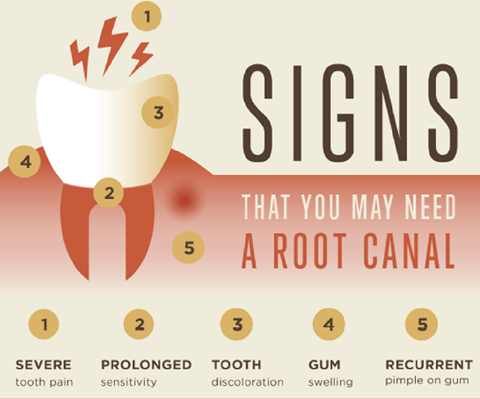 Over the years, the term "root canal" has acquired a reputation and these words have elicited a strong emotional reaction from dental patients. Even without any actual knowledge of what the technique is, just the possibility of having this done can cause a lot of anxiety. But do you know what a root canal actually is? Or why it can be an essential dental technique? We're going to take a closer look at the symptoms displayed by people who might need a root canal, and why it may be critical to have one done on your mouth.
What Is a Root Canal?
At its simplest, a root canal is a dental technique that is used to try to save a tooth, rather than extract it from the mouth. When dental professionals believe the tooth does not have to be removed, a root canal is the attempt to treat an infection that is deep within the tooth.
Root canals involve isolating and drilling into a tooth to gain access to the infected, pulpy mass that is inside. Your dentist may use a file to remove whatever infected mass is found. Then water and anti-microbial solutions may then be applied—depending on need—to treat or clear out the remaining infected pulp.
Once the cleaning is complete, the hole is filled, and after a recovery period, a new "crown" is affixed over the area that needed work.
Related Article: Why am I experiencing pain after root canal treatment?
What Are the Symptoms?
If the pulp in your teeth becomes infected, you'll experience a few possible root canal symptoms. The ones you should keep a look out for are:
Root Canal Symptoms: Pain
A sensitive tooth may be an obvious sign of trouble. A tooth can become sensitive for a number of reasons. Under these circumstances, movement or eating will cause you pain when you put pressure on the tooth. However, if you're experiencing constant pain, even when you're not using the tooth, and it feels deep within your mouth or jaw, this may indicate more than a little discomfort, and instead it could be a root canal symptom.
Root Canal Symptoms: Swelling
If you feel your gums have swollen, or you look in the mirror and you can actually see swelling in a part of your gums, this is another sign. In particular, keep a lookout for swelling that is sudden and restricted to a specific area, not just all around your mouth.
Root Canal Symptoms: Color Change
A color change is a very apparent hint if you open your mouth to look for it. If you see that one of your teeth has changed color from the normal white you're used to seeing, take action. Teeth can typically become discolored due to coffee consumption, smoking, or even aging. So keep an eye out specifically for rapid, yellow discoloration.
Get It Checked!
If you're experiencing persistent pain and discomfort, don't let your nervousness about a potential root canal get in the way. Have an experienced dental professional give you a checkup and see whether you've just got some less severe gum disease or something that needs more serious attention. The pain of living with root canal symptoms is undoubtedly worse than the procedure.
Local dentist, Travis A. Roberts and his experienced, friendly team at Adams Dental Group offer affordable family dentistry in Kansas City, KS. If you are experiencing root canal symptoms in the KCK area, we can help you. We have two locations that are conveniently located and offer appointment times Monday through Friday to meet your needs. Dental health awareness is an important aspect of our patient education. At Adams Dental Group, we provide most dental services, from family and general dentistry to specialty procedures, including dental implants, dentures, endodontic or root canal treatment, teeth whitening, cosmetic dentistry and much more. We accept most dental insurance plans and offer affordable financial solutions for any budget. Call us at our West location (913) 296-8030 or our East location (913) 621-3113 to schedule an appointment.
Dr. Travis A. Roberts, DDS July 24th, 2018
Posted In: Services | Procedures
Tags: root canal symptoms