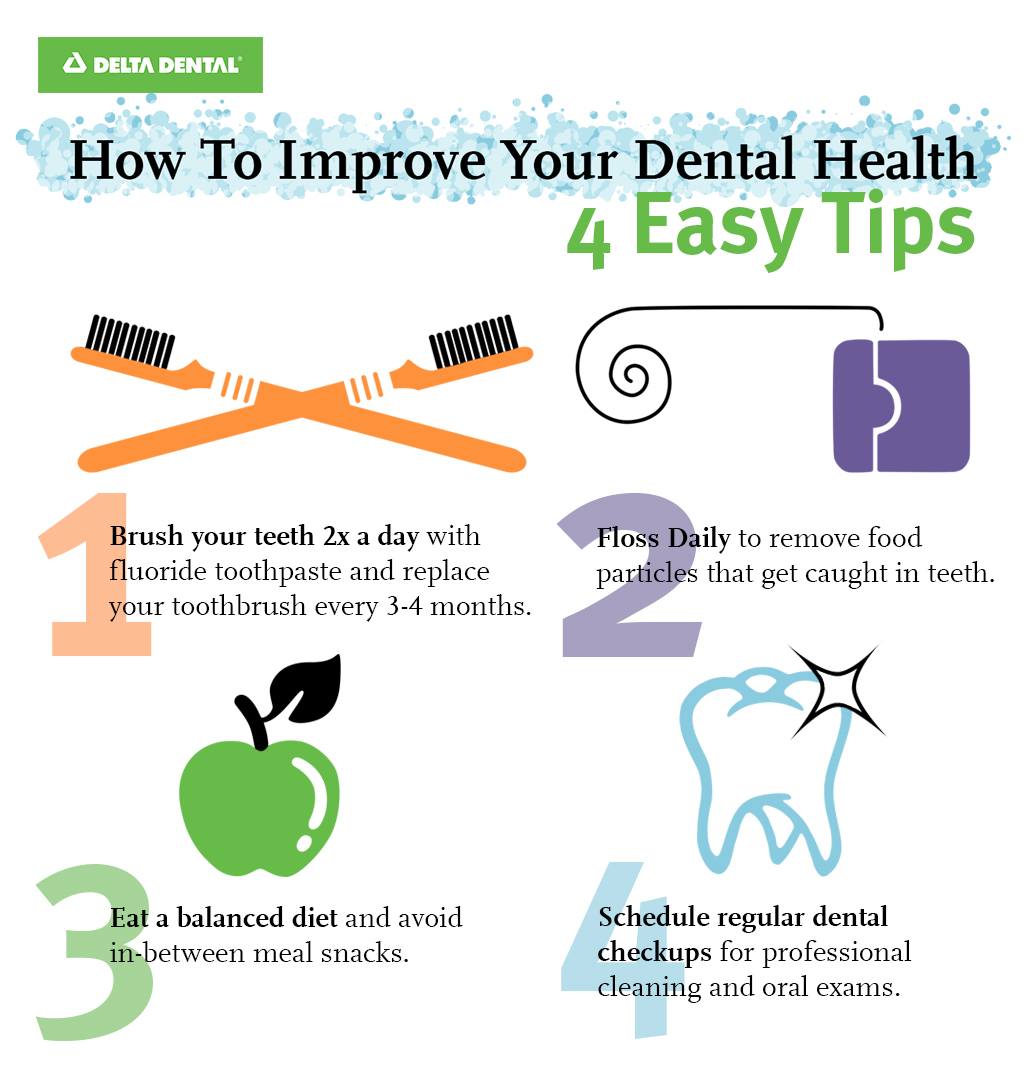 We all tend to begin each New Year with goals and resolutions in all of the areas of our lives, including fitness, career, family, finances, and health. However, it's important to our overall health and well being that we also strive for optimum dental health. That's why we wanted to take an opportunity to help educate our patients on dental health awareness.
We've all heard that we need to brush and floss daily and make sure to visit our dentist twice a year for our dental appointments; however, there are so many reasons dental health awareness is so important to our overall health. Whether you're resolved to improve your tooth brushing habits or prioritizing the completion of a dental treatment, understanding the benefits of doing so may keep your motivation high.
These are simple ways for you to begin improving your dental health:
Dental Health Awareness: Improve your Brushing and Flossing Habits
Let's start small … are you flossing and brushing your teeth every day? It is important to brush your teeth twice a day using fluoridated toothpaste and a soft-bristle manual toothbrush or electric toothbrush.
When brushing, position your toothbrush toward your gum line at a 45-degree angle and move the toothbrush across all surfaces of your teeth to effectively remove plaque. Remember to replace your toothbrush every 3 to 4 months; especially after you have had a cold or flu or if the bristles are frayed.
It is also important to floss once a day to remove any food particles and plaque that has accumulated throughout the day.
Daily brushing and flossing will help you prevent tooth decay, bad breath and gum disease. The additional daily use of a mouth wash will also help to improve your oral health.
Dental Health Awareness: Make Healthy Drink and Food Choices
An important part of achieving your dental health goals is to make healthy drink and food choices, especially when you grab a snack. When you consume foods and beverages that contain acids and carbohydrates, you are contributing to tooth decay. That's why it's so important to brush after meals and snacks.
When making choices for beverages, the healthiest thing you can drink is water. It helps to rinse your mouth reducing the cavity-causing buildup of plaque and bacteria. We don't realize how many of the "healthy" drink options we make every day that are not healthy. Many drinks are loaded with sugars and acids, even the sparkling waters that we assume are healthy.
Dental Health Awareness: Improve Your Smile
Did you know that the fastest and most economical way to improve the appearance of your smile is to whiten your teeth? It's easy, quick and there are a lot of options that can help remove surface stains and deep stains. Many of these stains are caused by our favorite foods and drinks (especially coffee, tea, red wine, etc); however, the medications you take can also be causing your teeth to look yellowed and stained.
Don't be fooled by over-the-counter or trendy teeth whitening kits. They can be costly and dangerous to use, as some are harsh enough that they can remove the enamel from your teeth! It's always best to work directly with Dr. Roberts to whiten your teeth. Adams Dental Group has several teeth whitening options whether you want to schedule an in-office whitening or you need an at-home option.
Whitening toothpastes are also available and some contain peroxide bleaching agents as well.
Dental Health Awareness: Restorative Dentistry
You may have decided that this is the year that you're going to complete the restorative dental treatments that you've been putting off. Has Dr. Roberts told you that you need a new crown, implant or filling? If so, when you complete these procedures, you are helping to preserve the structure of your teeth and maintain proper alignment which can improve your oral health.
Dental Health Awareness: Cosmetic Dentistry
If you've always wanted a beautiful smile, now it can be yours. Chips, cracks, stained teeth and other issues can negatively affect your smile and your self-confidence. With our state of the art, natural-looking cosmetic dentistry options, you can improve the appearance of your teeth. The friendly, caring team at Adams Dental Group can perfect your smile through whitening treatments, veneers, and porcelain restorations. Just ask us, we'd love to tell you more during a personal consultation to discuss which cosmetic dentistry option is best for you.
Dental Health Awareness: Stop Using Tobacco Products
When you stop using tobacco products of any kind, you will improve not only your oral health, but also your overall health. If this BIG Resolution is on your list, there is no better time than the present to stop smoking or using smokeless tobacco.
If you think the vape craze is a healthy alternative to smoking tobacco, think again. Not only can vaping increase the chance for gum disease and eventually tooth loss, but it can cause a variety of other problematic health problems, including wounds that won't heal, vaper's cough (similar to smoker's cough) and chronic bronchitis to name just a few. Many harmful, even toxic chemicals have been found in the liquids used in e-cigarettes, like formaldehyde. Some can cause cancer. Here's an article from Science News for Students called, "Concerns Explode Over New Health Risks of Vaping".
There are a lot of free online tools, groups to help you stop smoking, even apps that can lend support if you or a friend or family member is trying to stop smoking. It could be the most important thing you ever do.
Below are several organizations that offer support and assistance if you want to stop smoking:
Dental Health Awareness: Routine Dental Appointments
Making a resolution for you and your family to visit the Dr. Roberts at Adams Dental Group for their twice a year dental appointment is key. Not only can these routine visits help prevent oral disease, but they can also reveal an existing disease in an early stage. Make sure you're visiting the dentist every 6 months to keep you on track with any treatment you may need.
We hope this has helped you increase your dental health awareness and knowledge, as patient education is very important to us and our team. If you have questions about any of these subjects, we are here to help you get the support and care you and your family need.
Travis A. Roberts and his experienced, friendly team at Adams Dental Group offer affordable family dentistry and gentle dental care in the Kansas City, KS area. We have two locations that are conveniently located and offer appointment times Monday through Friday to meet your needs. At Adams Dental Group, we provide most dental services, from family and general dentistry to specialty procedures, including dental implants, dentures, endodontic or root canal treatment, teeth whitening, cosmetic dentistry and much more. We accept most dental insurance plans and offer affordable financial solutions for any budget. Call us at our West location (913) 296-8030 or our East location (913) 621-3113 to schedule an appointment.
Dr. Travis A. Roberts, DDS January 16th, 2018
Posted In: Dental Health Tips
Tags: dental health awareness