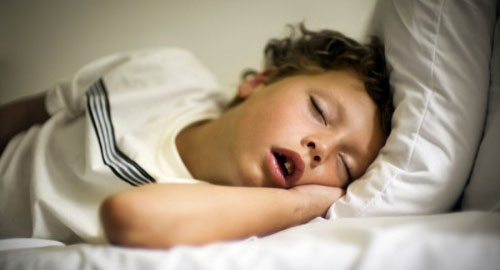 According to the American Sleep Apnea Association, the ASAA, one in three children are affected by childhood obesity. Excess weight can increase a child's risk of sleep apnea, and an estimated 4% of all children, mostly between the ages of 2 and 8, suffer from sleep apnea. However, there are multiple causes for sleep apnea in children, with weight being one of the main causes in children and adults alike. With many treatment options available, such as healthy weight management, a tonsillectomy, or continuous positive airway pressure (CPAP), it's very possible that sleep apnea can be cured for children.
Related Article: Are You Having Trouble Sleeping? What You Need to Know.
What is Sleep Apnea?
The most common type of sleep apnea associated with obesity is OSAS, or obstructed sleep apnea syndrome. This means that the airway is being obstructed during sleep, making it hard to breath and sleep comfortably – often resulting in episodes of waking up throughout the night to breath properly, known as breathing pauses. According to Sleepforkids.org and Jodi A. Mindell, PhD a pediatric sleep expert and member of NSF's Board of Directors, "With the increasing rates of obesity in children, it's likely there will also be an increase in sleep apnea."
Learn more HERE about OSAS (Obstructed Sleep Apnea Syndrome.
Sleep apnea can cause a multitude of problems throughout a child's life. When affected by sleep apnea, a child may experience low energy, fatigue, cravings, behavioral problems, and more. This can lead to problems focusing at school and weight gain due to low energy and fatigue. It's a vicious cycle, and it's important to know the warning signs of sleep apnea.
How Does Obesity Cause Sleep Apnea?
Obesity can put a child at risk for a multitude of issues, such as diabetes, heart disease, and high blood pressure. However, sleep apnea is not often associated with obesity, but it can cause it.
There are also other factors that can cause sleep apnea, such as:
Obstructed airways due to oversized organs (tonsils).
Narrow arches in oral cavities.
A miscommunication between the respiratory system and the brain.
Obesity can lead to sleep apnea because excess weight means extra pressure on your airways, making it harder to breath freely at night. If someone suffers from one of the above factors, they can also gain weight due to sleep apnea. Without the proper amount of rest every day, it's so much easier to become stressed and, oftentimes, stress and fatigue lead to weight gain.
Therefore, sleep apnea in children can help cause obesity, and obesity can cause sleep apnea in children. Lack of sleep can have negative affects on a child's developing brain, and so, treatment is necessary if you think your child may be suffering from obesity or sleep apnea. Talk with your doctor or Dr. Roberts at Adams Dental Group if you or a loved one is experiencing any signs of sleep apnea.
Curing Childhood Obesity is a Family Commitment, learn more HERE.
Local dentist, Travis A. Roberts and his experienced, friendly team at Adams Dental Group offer affordable family dentistry and gentle dental care in the Kansas City, KS area. We are conveniently located a few minutes East of The Legends Outlets and offer appointment times Monday through Friday to meet your needs. At Adams Dental Group, we provide most dental services, from family and general dentistry to specialty procedures, including dental implants, dentures, root canal treatment, teeth whitening, cosmetic dentistry, SureSmile invisible aligners, treatment options for sleep apnea and much more. We accept most dental insurance plans and offer affordable financial solutions for any budget. Call us at (913) 296-8030 to schedule an appointment.
Dr. Travis A. Roberts, DDS December 17th, 2019
Posted In: Sleep Apnea
Tags: childhood obesity, sleep apnea in children, sleep apnea symptoms