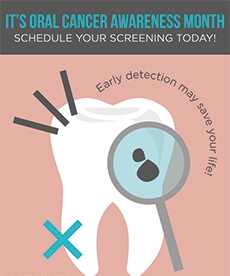 April is Oral Cancer Awareness Month, a month that is dedicated to spreading global awareness of this often-overlooked disease. During this time, it's important that individuals consider their oral health and educate themselves on what oral cancer looks like and the preventative steps they can take to protect both themselves and their loved ones.
To make sure that you catch any signs of oral cancer and other oral diseases early, it's vital that you schedule a regular oral cancer screening with Dr. Travis Roberts at Adams Dental Group. Learn more about oral cancer and its early signs by reading below:
Oral Cancer and its Early Signs and Symptoms
Oral cancer can be split into more specific types of cancers that occur in the mouth, including the throat, sinuses, palates, cheeks, lips, and tongue.
During Oral Cancer Awareness Month, we take the opportunity to talk about early detection through oral cancer screening can help oral health professionals identify the symptoms and signs of various types of oral cancer. Additionally, people can keep an eye out for the following symptoms and signs of oral cancer:
     Any irregular or sudden lumps, bump, or rough patches in the oral cavity or around your lips.
     A persistent numbness or loss of sensation of the tongue, mouth, neck, or face.
     Any difficulties when trying to chew, talk, or swallow.
     A sore throat.
     Oral bleeding.
     Discolored areas or patches inside the mouth.
What Are the Common Risks Associated with Oral Cancer?
Like many diseases and cancers, regular use of both alcohol and tobacco can impact your health and increase your risk of developing oral cancer. There are other ways that oral cancer develops, including a poor diet, poor oral hygiene, HIV infection, and UV rays when it comes to lip cancer.
What Can You Do to Prevent Oral Cancer?
When you schedule your regular oral health exam with an oral health professional, they will take the time to check for any irregular symptoms or changes in your mouth that could demonstrate a serious issue.
Related Article: Find Out Why an Oral cancer Screening is Really Important
In between your regular dental checkup and oral cancer screening, you can perform a self-directed oral exam. Remember to take time to inspect your gums, lips, cheeks, tongue, and both the roof and floor of your mouth. Inspect for the warning signs and symptoms listed above. If you find any irregular or suspicious issues, contact your oral health professional immediately for a follow-up.
To further decrease your risk of developing a type of oral cancer, you can limit or quit your consumption of alcohol and tobacco, maintain a healthy lifestyle, and consistently practice good oral health practices.
Early detection is critical in overcoming oral cancer of all types. Most of these diseases can be caught early with regular dental check-ups and self-directed oral examinations. Although there are factors that can increase your chance of developing oral cancer, it is a disease that can affect anyone. At Adams Dental Group, we're ready to help you with your oral health needs during Oral Cancer Awareness Month or any other time. Call us today to schedule an appointment at one of our convenient locations in Kansas City, KS.
Local dentist, Travis A. Roberts and his experienced, friendly team at Adams Dental Group offer affordable family dentistry and gentle dental care in the Kansas City, KS area. We have two locations that are conveniently located and offer appointment times Monday through Friday to meet your needs. At Adams Dental Group, we provide most dental services, from family and general dentistry to specialty procedures, including dental implants, dentures, endodontic or root canal treatment, teeth whitening, cosmetic dentistry and much more. We accept most dental insurance plans and offer affordable financial solutions for any budget. Call us at our West location (913) 296-8030 or our East location (913) 621-3113 to schedule an appointment.
Dr. Travis A. Roberts, DDS April 24th, 2018
Posted In: Dental Health Tips